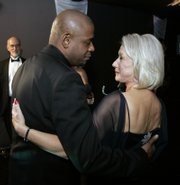 Los Angeles — Helen Mirren of "The Queen" and Forest Whitaker of "The Last King of Scotland" won Screen Actors Guild Awards on Sunday as best lead players, their latest prizes on the road to the Academy Awards.
The road-trip romp "Little Miss Sunshine" won the prize for best film ensemble, the guild's equivalent of a best-picture award.
Solidifying their positions as Oscar favorites, Mirren won for playing British monarch Elizabeth II and Whitaker for starring as Ugandan dictator Idi Amin.
Eddie Murphy and Jennifer Hudson won supporting-acting honors as soulful singers in "Dreamgirls," reinforcing their status as Oscar front-runners as well.
The best-picture Oscar race, though, remains wide open, with "The Queen" and "Little Miss Sunshine" up against three sprawling dramas, "The Departed," "Babel" and "Letters From Iwo Jima."
Mirren said she initially was dismayed at the prospect of donning Elizabeth II's conservative wardrobe, including sensible shoes and tweed skirts.
"I thought, 'I can't play anyone who chooses to wear those clothes. I just can't do it,'" said Mirren, who also won the guild honor for best actress in a miniseries as the current monarch's namesake in "Elizabeth I."
"But I learned to love the person who chooses to wear those clothes, because I learned to love a person without vanity, but with a great sense of discipline that I understand. With a great sense of duty that I understand. And with a great deal of courage, and that I understand."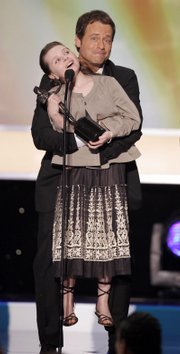 It seemed the soft-spoken Whitaker was struck speechless, rambling through some awkward words of gratitude.
"I want to thank you for allowing me to have a moment like this," Whitaker said.
"Little Miss Sunshine" co-star Greg Kinnear thanked the German automaker that designed the rickety minibus the film's horribly dysfunctional family drives to their little girl's beauty pageant.
"I'd like to thank the engineers at Volkswagen for making a beautiful vehicle back in 1969 that is so comfortable, so safe," Kinnear said.
Murphy, who built his career as a fast-talking comic player, began with a thank-you speech more appropriate for a serious thespian - but his sober demeanor proved a gag.
"What a tremendous honor to be recognized by one's peers. I've been acting for some 25 years now and this is a tremendous honor," said Murphy, talking in a British accent.
"No, I'm sorry," said Murphy, cracking up in laughter. "I feel goofy up here, 'cause I don't be winning stuff."
As a powerhouse vocalist in "Dreamgirls," Hudson continued her breakneck rise to movie stardom after becoming famous as an "American Idol" contender two years ago. Hudson thanked her co-stars, who included Murphy, Jamie Foxx and Beyonce Knowles.
Screen Actors Guild award winners
Movies:Actor: Forest Whitaker, "The Last King of Scotland"Actress: Helen Mirren, "The Queen"Supporting actor: Eddie Murphy, "Dreamgirls"Supporting actress: Jennifer Hudson, "Dreamgirls"Cast: "Little Miss Sunshine"Television:Actor in a movie or miniseries: Jeremy Irons, "Elizabeth I"Actress in a movie or miniseries: Helen Mirren, "Elizabeth I"Actor in a drama series: Hugh Laurie, "House"Actress in a drama series: Chandra Wilson, "Grey's Anatomy"Actor in a comedy series: Alec Baldwin, "30 Rock"Actress in a comedy series: America Ferrera, "Ugly Betty"Drama series cast: "Grey's Anatomy"Comedy series cast: "The Office"Lifetime Achievement: Julie Andrews
Copyright 2018 The Associated Press. All rights reserved. This material may not be published, broadcast, rewritten or redistributed. We strive to uphold our values for every story published.