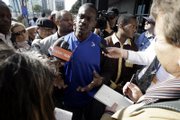 Long Beach, Calif. — Nine black youths were convicted Friday in juvenile court of beating three white women in a racially charged attack on Halloween night.
The youths, ranging from 12 to 18 years old, could receive sentences from probation to confinement in juvenile prison until age 25. All were charged with felony assault. The judge found eight of them guilty of hate crimes. The attack occurred in an upscale area of the city known for its elaborate Halloween decorations.
Prosecutors said the confrontation began when a crowd of black youths threw objects at the three young white women. Some hurled racial insults and one was heard shouting "I hate whites," authorities said.
The group then attacked the victims, knocking them to the ground. The beating stopped when a black man driving by pulled the assailants away and shielded the women with his body, prosecutors said.
A 12-year-old girl was acquitted, and two 15-year-old boys face trial later on felony assault charges.
A representative of the beaten women, Douglas Otto, said they felt vindicated by the verdict and hope the defendants will "admit their wrongdoing and let the healing begin."
Copyright 2018 The Associated Press. All rights reserved. This material may not be published, broadcast, rewritten or redistributed. We strive to uphold our values for every story published.