Jackson, Miss. — A reputed Ku Klux Klansman accused in the 1964 slayings of two black men pleaded not guilty Thursday, and in a measure of how things have changed across the South, the judge he stood before was a black woman.
With his wrists and ankles shackled, 71-year-old James Ford Seale repeatedly addressed the judge as "ma'am," a social courtesy whites typically denied to blacks in Mississippi 43 years ago.
Seale was arrested Wednesday on federal charges of kidnapping and conspiracy. Prosecutors said Charles Eddie Moore and Henry Hezekiah Dee, both 19, were seized and beaten by Klansmen, then thrown into the Mississippi River to drown.
A second white man long suspected in the attack, reputed KKK member Charles Marcus Edwards, 72, has not been charged. People close to the investigation who spoke on condition of anonymity said Edwards was cooperating with authorities.
Seale and Edwards were arrested in the case in 1964. But the FBI - consumed by the search for three civil rights workers who had disappeared that same summer - turned the case over to local authorities, who promptly threw out all charges.
The U.S. Justice Department reopened the case in 2000. But it was not until a few years ago that authorities even realized Seale was still alive.
"Forty years ago, the system failed," FBI Director Robert Mueller said in Washington. "We in the FBI have a responsibility to investigate these cold-case, civil rights-era murders where evidence still exists to bring both closure and justice to these cases that for many, remain unhealed wounds to this day."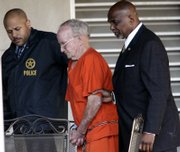 The indictment alleges that Klansmen took Moore and Dee, both 19, to the Homochitto National Forest in southwestern Mississippi. Seale held a sawed-off shotgun on the men while other Klan members beat them with switches and tree branches, it said.
The teenagers were still alive when they were weighted down and dumped into the Mississippi River, the indictment said.
On Thursday, U.S. Magistrate Linda R. Anderson asked Seale whether he understood the charges, which carry up to life in prison.
"Yes, ma'am, I think so," Seale said in a calm voice.
Seale was jailed for a bail hearing on Monday. His court-appointed attorneys said he is suffering from cancer. His trial is scheduled for April 2.
Copyright 2018 The Associated Press. All rights reserved. This material may not be published, broadcast, rewritten or redistributed. We strive to uphold our values for every story published.