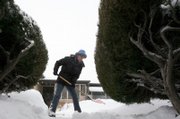 Denver — The latest in a series of winter storms battered Colorado on Sunday, dumping several inches of snow and whipping up strong winds that created whiteout conditions on the state's eastern plains.
Officials closed a long stretch of Interstate 70, from near Denver International Airport almost to the Kansas state line, because of high winds, blowing snow, poor visibility and ice.
Accidents caused by blowing snow and icy roads closed southbound Interstate 25 near Fort Collins for two hours Sunday morning. State Patrol Master Trooper Ron Watkins said no injuries were reported.
Wind up to 60 mph piled the snow into drifts as high as 3 feet in parts of the state, the National Weather Service said.
A blizzard warning was in effect for much of eastern and northeastern Colorado, and the State Patrol advised against unnecessary travel.
The stormy weather in Colorado followed closely on the heels of a storm that spread heavy snow across parts of the Plains on Saturday, limiting visibility and creating hazardous driving conditions.
That storm was blamed for at least 11 traffic deaths: six in Kansas, four in Nebraska and one in Oklahoma.
In Kansas, accumulation of 8 inches was reported in several communities before the snow stopped falling early Sunday.
The Plains storm spared much of Oklahoma from heavy snow, but utilities reported more than 20,000 homes and business were still without power Sunday because of an ice storm one week earlier.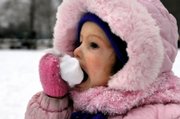 "We're coming down to what we expect to be very near the end of the restoration process," said Stan Whiteford, a spokesman for Public Service Company of Oklahoma, which reported about 4,000 customers still blacked out, mostly in the McAlester area. "We think we're going to be pretty close to wrapping things up."
In Missouri, more than 45,000 people remained in the dark Sunday from the same storm.
Authorities in Oklahoma's Pittsburg and McIntosh counties implemented a nighttime curfew following reports of break-ins and the theft of generators set up to power railroad crossing guards.
Copyright 2018 The Associated Press. All rights reserved. This material may not be published, broadcast, rewritten or redistributed. We strive to uphold our values for every story published.