It's the nice shiny apple Lawrence's school board would like to sit on the public's desk: all-day kindergarten.
"It would give us time to do justice to all the things we need to be teaching: science, social studies, possibly more in-depth language arts and more math," says Chris Heider, who teaches two half-day sections of kindergarten at Langston Hughes School.
"Every subject area we could probably cover a little more thoroughly," Heider said.
But all-day kindergarten is a costly apple to harvest, with price tags of $75 million to implement statewide and about $1 million locally.
So it's more likely that all-day kindergarten will be served up in smaller slices over the next few years, at least at the state level, several officials have said.
Gov. Kathleen Sebelius has proposed phasing in all-day kindergarten over five years, dedicating a fifth of the cost for the first year, or $15 million.
The idea is to make it more palatable for state lawmakers this year.
But such an approach doesn't translate well to how local school districts can implement it, says Randy Weseman, superintendent of Lawrence's public schools.
Weseman explained that this year, the state picks up the cost of sending kindergartners for half a day. The governor's five-year plan calls for the state to initially pick up six-tenths of the cost needed for kindergarten, he said.
"That's a step forward, and I am certainly encouraged by that," Weseman said. However, that doesn't mean Lawrence can go from a half-day program to a six-tenths of a day program, he said.
"We have to do either a half-day or a full-day program, one of the two. We can't do a six-tenths program," he said.
If the Lawrence school district wants to implement all-day kindergarten, it must pick up the remaining local costs, or about $800,000.
"Until it's fully phased in, we have to come up with extra dollars that aren't state-supported to fund a full-day program," Weseman said. "Phasing it in still requires school districts to pull it out of their budget."
Funding priorities
Currently about two-thirds of school districts in Kansas have all-day kindergarten, which means property owners in those districts are paying for half the cost.
"Every school district has its own unique situation," Weseman said. Because the majority of the state's school districts have fewer than 1,000 students, offering all-day kindergarten might be easier for them than districts with more than 10,000 students, such as Lawrence, he said.
"For us, it's a facilities issue, in some respect. For us, it's mostly a general fund issue," Weseman said. "We've chosen to spend money in other areas and tried to keep our costs down."
He said the district had been trying to catch up on teachers' salaries and keep class sizes low for the last few years.
"That's where most of our money's been going," he said.
Six or seven schools
Depending on what the Legislature does, there has been some discussion about bringing all-day kindergarten to at least some Lawrence schools.
Five years ago, the district offered all-day kindergarten at five schools that had high concentrations of low-income families, making them eligible for federal Title I funding.
Some school board members have said - depending on the available funding next year - that is an approach the board might consider again.
Plans are being discussed for bringing all-day kindergarten to six or seven such schools, said Bruce Passman, deputy superintendent.
"We're proceeding with some planning," Passman said. "In the event there are resources available, we want to be able to move forward."
'Schools benefit'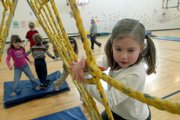 Vicki Penner, a member of the New York School site council, has presented a letter to the school board asking for all-day kindergarten.
That letter, which was also signed by representatives of several other school site councils, encouraged the board to consider providing all-day kindergarten in at least some schools.
"Studies have shown that children in lower-income schools really benefit," Penner said. "It helps those kids as much or more than those at other schools."
Another parent, Sally Kelsey, chairwoman of the Cordley School site council, said she would withhold judgment on the governor's plan until she could find out whether that money would be earmarked specifically for kindergarten and which schools would be funded.
"My preference would be to make sure that Title I schools get some attention," she said.
Time constraints force teachers to juggle subjects
Having more time to teach a class of 5-year-olds would make a kindergarten teacher's job easier, said Chris Heider, who is in her first year of teaching kindergarten at Langston Hughes School. Heider taught second-graders in a full-day class setting for 16 years. Now she has 19 students in her morning half-day kindergarten class and 18 students in her afternoon class. She starts with a 60- to 90-minute language-arts block, followed by recess. Next come a story and math for another 30 or 40 minutes. "Somewhere in there, too, you kind of pull in science and social studies," Heider said. "And I don't get those in every day, that's for sure." Sometimes math or language arts is shorter to fit in science and social studies. Then students go to recess, art or music for about 25 minutes. Finally, the day is finished with whatever topic they couldn't squeeze in the day before, she said. Heider also tries weekly to get students to the library and computer lab, but they often run out of time. All-day kindergarten would help her incorporate more subjects, she said. "I really have mixed emotions about it, if you want to know the truth," Heider said. "Part of me says, you know, they're 5 years old. They're going to be in school an awfully long time, for the rest of their life. "But also, there are so many things that we need to present to them. The curriculum is getting so intense that you need to get started at age 5. It's kind of a Catch-22."
Copyright 2018 The Lawrence Journal-World. All rights reserved. This material may not be published, broadcast, rewritten or redistributed. We strive to uphold our values for every story published.