Lawrence school officials have given up on resurrecting all-day kindergarten.
"I'm very disappointed," said Supt. Randy Weseman, addressing the school board Monday. A recent survey of parents of 551 kindergartners-to-be found that 73 percent wanted all-day kindergarten, but only 46 percent were willing to pay the $240-per-month fee needed to cover the program's costs.
Also, Weseman said, district efforts have been hamstrung by not having a clear idea on how much the Legislature is willing to spend.
"We're at the point where (legislators) have been talking about this for almost a year, and we still don't know anything," Weseman said. "So many plans have come and gone, I can't keep it all straight. I don't know that anybody knows."
Weseman had hoped that if enough parents had been willing to pay the $240-per-month fee, the district could begin hiring teachers and developing curriculum without having to wait on the Legislature.
But only 264 families - less than half - were willing to pay. As proposed, parents of children eligible for free or reduced-price lunches would not have been asked to pay the monthly fee.
Until 2001-02, five of the district's elementary schools - Cordley, Kennedy, New York, Riverside and East Heights - had all-day kindergarten. The rest had half-day kindergarten.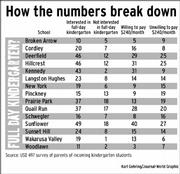 Budget pressures forced the district to cut the all-day classes back to half-day in 2002-03.
Board member Rich Minder struggled to understand why parents would object to paying $240 per month for kindergarten when they're likely to spend as much or more on day care, getting less in return.
"This makes no sense to me," Minder said, doing little to hide his frustration.
Rather than completely pulling the plug on all-day kindergarten, board members agreed to look at starting all-day programs at one, two or three schools with the most would-be kindergartners thought to be at-risk.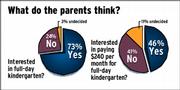 Other possibilities:
l Starting one or two all-day programs and limiting enrollment to students considered the most at-risk, regardless of where they live.
l Starting an all-day kindergarten at a single, stand-alone facility - the former Centennial School building, for example - and letting parents assume responsibility for transportation.
Weseman warned that state law may require the district to pick up some or all of the transportation costs.
Nancy DeGarmo, principal at New York School and a staunch advocate for all-day kindergarten, praised Weseman and the board for their deliberations.
"We know it's the Legislature that's holding things up," she said, noting that all-day kindergarten remains her school's No. 1 priority for 2006-07.
"You've not heard the last from New York School on this," she said.
Afterward, Weseman was asked if he might have underestimated the Legislature's willingness to back all-day kindergarten.
"I don't know what to think," he said, "But at some point I have to start hiring teachers and finding space. I can't do that if I don't know what the budget's going to be - it's May and I don't that."
Board member Craig Grant, a retired lobbyist for the Kansas-National Education Assn., shared Weseman's pessimism.
"What I'm hearing (from Topeka) is that (legislators) plan to stay another week and go home - let the governor call another special session," he said.
Copyright 2018 The Lawrence Journal-World. All rights reserved. This material may not be published, broadcast, rewritten or redistributed. We strive to uphold our values for every story published.