It comes with a fairly high price tag - about $1 million locally.
However, all-day kindergarten could be available next year in Lawrence, depending on the funding commitment level from the governor, the Kansas Legislature and Lawrence's own school board.
Educators and parents say children benefit from the extra learning time and from having more time to develop a relationship with their teacher.
However, the state doesn't fund all-day kindergarten programs - school districts that offer it pay for it themselves. And that's been a problem in the past for Lawrence's school district.
"There's not a board member who doesn't support and wouldn't love to do all-day kindergarten districtwide," said Sue Morgan, president of Lawrence's school board. "It's a resources issue."
It would cost $1 million to establish full-day kindergarten at each of Lawrence's 15 elementary schools, and that's if there is space available, Morgan said.
The board also has considered going to a need-based, phased-in program, where the children who would need kindergarten the most - those who might perform below-expected levels - would be served first.
The district did a limited all-day kindergarten program at five schools five years ago. It was mostly provided for students who were getting free and reduced lunches. The program was cut because of funding issues.
Two-thirds of state
Dale Dennis, the state's interim commissioner of education, said about two-thirds of all kindergartners in Kansas are in all-day kindergarten programs. Those programs are now being funded by the school districts themselves, he said.
If the Kansas Legislature decides to provide the funds, it will cost about $75 million, he said.
Bill Wagnon, a Topeka Democrat who represents most of Lawrence on the State Board of Education, said the board will take up all-day kindergarten funding at its meeting later this month.
Wagnon predicted the state board would support a three-year plan for funding all-day kindergarten.
"I don't think anybody is against it. Some districts just simply don't have the space. Others don't have the money. And to have it paid for by the state would be a great boon to those," Wagnon said.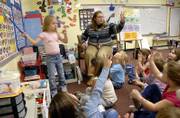 Wagnon said Gov. Kathleen Sebelius has shown strong interest in early childhood education.
However, it's unclear whether the governor will include state funding for all-day kindergarten in the budget she submits to state legislators, who return to the Statehouse on Jan. 8.
"All-day K continues to be a passion of mine," Sebelius said. "We're going to look at years two and three of the education bill as I put together the budget and figure out what was mandated and what was left off and what we can look at to improve."
State Sen. Roger Pine, R-Lawrence, a former Lawrence school board member, said feelings are mixed among legislators about putting more funds into education.
"All of these legislators come from different parts of the state and have, in some instances, considerably different issues and financial situations to confront," Pine said. "So it's hard to get 100 percent agreement on almost anything. But I'm sure there would be quite a bit of support for this if we could find the money to do it."
Cost to families
One of the side benefits of all-day kindergarten programs is that they would help some families with child care issues.
"You've got a lot of two-career families. And you're having to shuffle the kids to another location in the middle of the day," Morgan said. "It's difficult to do."
Sally Kelsey, chairwoman of the Cordley School Site Council, said day-care costs can run several hundreds of dollars a month per child for working parents.
Bill Wagnon, a member of the Kansas State Board of Education, says the state board will discuss all-day K soon
Kelsey, who has a daughter who will be eligible to attend Cordley's kindergarten next fall, pays $625 a month for full-time day care.
With half-time kindergarten, day care would be reduced by only about $100 at Kelsey's existing day care.
But with full-time kindergarten, she could use an after-school program run by the school district through the Boys and Girls Club, reducing her family's cost to $40 a month.
Parents who choose to stay home until their children reach school age often find they can't return to work until their child reaches first grade, because of the transportation issues involved in half-time kindergarten, Kelsey said.
Continued push
Sue Morgan, Lawrence's school board president, discusses all-day kindergarten
At last week's Lawrence school board meeting, Vicki Penner, a member of the New York School Site Council, presented a letter pushing for all-day kindergarten. The letter also was signed by site councils at Cordley, Schwegler and Kennedy schools.
Several members of the Woodlawn Site Council also signed the letter, which asked the district to keep the option open of providing at least some all-day K in Lawrence.
"I think we need to keep pressure on the state," Penner said.
More about all day kindergarten
Copyright 2018 The Lawrence Journal-World. All rights reserved. This material may not be published, broadcast, rewritten or redistributed. We strive to uphold our values for every story published.