Some mentally ill inmates at jails throughout Kansas sit in cells for months even after a judge has ruled they need to be in a state hospital.
"We've had there be as much as a six-month delay," Douglas County District Court Judge Robert W. Fairchild said. "It's not fair for anyone to have to wait that long."
The delays come even when criminal defendants need something as simple as an evaluation to see whether they are fit to stand trial, taking up cell space at a time when 12 Douglas County inmates are farmed out to other jails around the area.
Plus, the delays can slow the criminal justice system by keeping trials in limbo and can cost taxpayers thousands of dollars in care for the inmates when they could be at trial or in a facility that will give them the appropriate care.
They are typically sent to Larned State Hospital - the only state hospital with a secure wing for potentially dangerous inmates - to get competency evaluations and opinions on their mental state and if they have been found unable to stand trial because of mental illness.
The delays often come at the beginning of trials, when a judge or an attorney asks for a competency evaluation for a defendant.
Here, trials can often be held up for months, putting a strain on prosecutors trying to assemble witnesses, District Attorney Charles Branson said.
"That's where we get held up the most," Branson said.
In the time it takes to get someone into Larned for an evaluation, witnesses can forget crucial details of an alleged crime or, especially in college towns, move away or go back home over summer and winter break, Branson said.
The delays happen most often for one reason.
"Bottom line, a lot of it is bed space," said Undersheriff Ken Massey, who commands operations at Douglas County Jail.
As of Friday, 57 inmates around the state were waiting to get into Larned, including two in Douglas County. One of those inmates has been in jail for two months, while another who was recently transferred has waited in jail more than three months, Massey said.
Some inmates never make it on the waiting list, said Abbie Hodgson, spokeswoman for the state Department of Social and Rehabilitation Services. Women often get into the facility immediately because of bed space in the women's wing, and sexual predator evaluations are typically expedited to the top of the waiting list.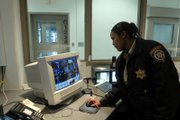 Those who wait typically sit in jails an average of four months before they are transferred to Larned for a screening, Hodgson said. The wait exists, she said, because of the lack of beds and a need for more evaluators at Larned.
"We are currently struggling to fill psychologist positions which are vacant," Hodgson said, adding that competitive salaries for psychologists could help.
Also, Hodgson said judges may be able to help the problem by entering treatment orders sooner or considering whether an inmate could be evaluated at a community mental heath center rather than at the secure center at Larned.
"Perhaps this process could be reviewed and education provided," she said.
Within the month, some jail officials and officials at Larned will mull over possible solutions.
Massey had his first meeting last week as part of Gov. Kathleen Sebelius' Mental Health Services Planning Council. Massey is part of a subcommittee examining issues affecting those with a mental illness who are in, or at risk of entering, the criminal justice system.
The subcommittee's central task, Massey said, is to examine what can be done to expedite transfers from jail to Larned. Massey said the subcommittee will focus on the more dangerous population who are required to go to the secure facility at Larned, rather than another mental health hospital, such as the facility in Osawatomie.
The subcommittee will meet again in February. In the meantime, Massey said, members of the committee will meet with officials from Larned and SRS to discuss ways to streamline the entrance process.
Whatever the subcommittee's findings, Massey said the problem will remain to some extent. There is no way to make immediate transfers possible, he said.
About one-third of inmates currently at the jail have some form of mental health issue, he said, ranging from minor stress to more prolonged problems.
Branson estimated that about three-fourths of people in the criminal justice system have a mental health or drug abuse problem.
Copyright 2018 The Lawrence Journal-World. All rights reserved. This material may not be published, broadcast, rewritten or redistributed. We strive to uphold our values for every story published.