LOS GATOS, CALIF. — Netflix Inc. will start showing movies and TV episodes over the Internet this week, providing its subscribers with more instant gratification as the DVD-by-mail service prepares for a looming technology shift threatening its survival.
The Los Gatos-based company unveiled the new "Watch Now" feature Tuesday, but only a small number of its more than 6 million subscribers will get immediate access to the service, which is being offered at no additional charge.
Netflix expects to introduce the instant viewing system to about 250,000 more subscribers each week through June to ensure its computers can cope with the increased demand.
Subscribers will be able to watch anywhere from six hours to 48 hours of material per month on an Internet streaming service that is supposed to prevent piracy.
The allotted viewing time will be tied to how much customers already pay for their DVD rentals. Under Netflix's most popular $17.99 monthly package, subscribers will receive 18 hours of Internet viewing time.
The company has budgeted about $40 million this year to expand its data centers and cover the licensing fees for the roughly 1,000 movies and TV shows that initially will be available for online delivery.
Netflix's DVD library, by comparison, spans more than 70,000 titles, one of the main reasons why the mail is expected to remain the preferred delivery option for most subscribers.
Another major drawback: The instant viewing system only works on personal computers and laptops equipped with a high-speed Internet connection and Microsoft Corp.'s Windows operating system. That means the movies can't be watched on cell phones, TVs or video iPods, let alone computers that run on Apple Inc.'s operating system.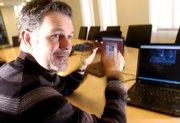 Despite its limitations, the online delivery system represents a significant step for Netflix as it tries to avoid obsolescence after the Internet becomes the preferred method for piping movies into homes.
"This is a big moment for us," said Netflix Chief Executive Reed Hastings as he clicked a computer mouse to quickly call up "The World's Fastest Indian" on the instant viewing service. "I have always envisioned us heading in this direction. In fact, I imagined we already would be there by now."
Besides preparing Netflix for the future, the instant viewing system gives the company a potential weapon in its battle with Blockbuster Inc. As part of an aggressive marketing campaign, Blockbuster has been giving its online subscribers the option of bypassing the mail and returning DVDs to a store so they can obtain another movie more quickly.
Online movie delivery already is available through services like CinemaNow, MovieFlix, Movielink, Vongo and Amazon.com Inc.'s recently launched Unbox. Apple Inc. also is emerging as major player, with hundreds of movies and TV shows on sale at its iTunes store and a new device that promises to transport media from a computer to a TV screen.
But none of those online services have caught on like Netflix's mail-delivery system, partly because movie and TV studios generally release their best material on DVDs first.
Copyright 2018 The Associated Press. All rights reserved. This material may not be published, broadcast, rewritten or redistributed. We strive to uphold our values for every story published.