Denver — A huge avalanche knocked two cars off a mountain pass Saturday on the main highway to one of the state's largest ski areas, shortly after crowds headed through on the way to the lifts, authorities said.
Eight people were rescued from the buried vehicles and all were taken to area hospitals, said state Patrolman Eric Wynn. Details of their conditions were not available.
"Our crews said it was the largest they have ever seen. It took three paths," Stacey Stegman of the transportation department said of the massive slide on U.S. Highway 40 near 11,307-foot Berthoud Pass, about 50 miles west of Denver on the way to Winter Park Resort.
Wynn said crews were searching the area for other vehicles but they thought all had been found.
Darren Johnson and other members of Oakwood Road Church in Ames, Iowa, on a ski trip were among those swept away by the avalanche, said his father, Don Johnson.
Darren Johnson's vehicle was the only one of the church's four-car caravan hit by the snow, his father said.
Don Johnson said his son was treated at a Denver hospital and released, while a passenger in his car, Peter Olsen of Nevada, Iowa, a sophomore at Iowa State University, was being treated for a broken rib.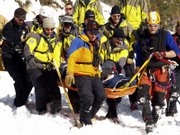 The avalanche hit between 10 a.m. and 10:30 a.m. and was about 200 to 300 feet wide and 15 feet deep, Wynn said. The area usually has slides 2 to 3 feet deep because crews trigger them before more snow can accumulate, said Spencer Logan of the Colorado Avalanche Information Center.
Despite three snowstorms in as many weeks, the area of the avalanche hasn't been hit as hard as eastern parts of the state that received up to 4 feet of snow, Logan said. But the pass did get up to 10 inches in the past few days, he said.
Logan said authorities hadn't had time to test all slide areas, and he blamed 30 mph winds, with gusts up to 60 mph Saturday morning, for the avalanche conditions. The danger was expected to increase with the prediction of 70 mph wind gusts in the evening.
Copyright 2018 The Associated Press. All rights reserved. This material may not be published, broadcast, rewritten or redistributed. We strive to uphold our values for every story published.