Is the publishing world the new "Prada"?
That's the feeling readers might get from two new novels by Debra Ginsberg and Bridie Clark, which might remind them - at least superficially - of the high-end fashion scene depicted in "The Devil Wears Prada." In all three, an ambitious young woman goes to work for a cruel, over-the-top female boss, only to survive in the end with her dignity intact.
Ginsberg's recently published "Blind Submission" and Clark's "Because She Can," which will come out in February, are set in the ferocious literary jungle. They lampoon two larger-than-life characters in the book business for whom the authors have previously worked: Ginsberg with Sandra Dijkstra, a prominent literary agent based in Southern California who has nurtured many best-selling authors, and Clark with Judith Regan, the publisher who was recently fired by HarperCollins for allegedly making anti-Semitic remarks after cooking up the aborted literary and television package on O.J. Simpson.
"I think everyone is familiar with the phenomenon of the boss from hell, the over-the-top person who can ruin your professional and personal life," said Clark, 29, who worked with Regan in New York for almost a year. "I'm sure this happens in many jobs, but you do hear a lot of stories about it occurring in the world of publishing."
Perhaps it was just a matter of time. If Lauren Weisberger's vicious portrait of Anna Wintour and the fashion world in "The Devil Wears Prada" could be turned into literary and cinematic gold, why couldn't the book world - teeming with behind-the-scenes intrigue and a rogue's gallery of opportunists - offer similar literary fodder?
Industry buzzing
For the record, Clark said her book is fiction and is not a specific portrait of anyone. But she concedes that "it's based on things I've lived and things I've imagined. It's pretty much out there by now, what she (Regan) is like. And I think the O.J. Simpson thing was truly a low point. But I don't have much more to add."
The New York gossip world, however, has been buzzing ever since galleys of Clark's 274-page book began circulating in November. The publisher, Warner Books, has openly touted the Regan connection, sending reporters a juicy item from Lloyd Grove, a former New York Daily News columnist, who described Vivien Grant, the novel's main character, as "a wildly abusive, foul-mouthed, pantsuit-wearing publisher who favors down-market bestsellers about strippers and pimps, boasts about her sexual escapades to overworked staffers and carries on an extramarital affair with a New York City public official who - presumably unlike Regan's onetime paramour, former Police Commissioner Bernard Kerik - likes to be photographed wearing lipstick and lingerie."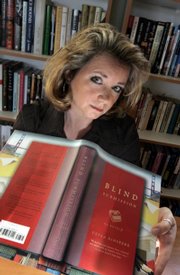 Claire Truman, the young protagonist in Clark's book, thinks she's heard it all as she comes to work for Grant. But nothing prepares her for a boss who calls at all hours, makes brazen intrusions into her private life and throws vulgar tantrums.
Colorful and aggressive
In "Blind Submission," Lucy Fiamma, the central character, is a brilliant, conniving literary agent who terrorizes her minions. For many California literati, Ginsberg, 44, has served up a wicked, unmistakable take on Dijkstra, whose aggressive style is well known.
At a recent meeting of the Southern California Booksellers Association, book mavens were tittering over the similarities. But almost none agreed to be quoted because they wanted to protect their relationship with the powerful agent, who has represented Amy Tan, Lisa See, Susan Faludi and other West Coast authors.
"A lot of Sandy's tremendous success and notoriety is due to her strong, colorful and often aggressive personality," said veteran literary publicist Kim Dower. "So it makes sense that someone has based a character on her. The truth is, if you want to succeed in a field where most of the players do business 3,000 miles away from where you live, you'd better stand out and make yourself unforgettable."
Ginsberg, who lives in the San Diego area - as does Dijkstra - said she is not surprised by the whispers. But the author, 44, who worked for Dijkstra for two years, noted that her book is a work of fiction, and insisted that Fiamma's vivid character is simply an amalgam of many women she knows in the book world and in other professions. Her young protagonist, Angel Robinson, is also a reflection of a lot of young people in the business, she said.
"There are a lot of Lucys out there," Ginsberg said, referring to a character who steals credit for work they've done and cruelly invades their private lives. "I didn't have to look too far. And I can't stress enough that this isn't a book about Sandy Dijkstra, any more than it's about Judith Regan."
Insane real world
A central theme in Ginsberg's novel is the blurring of the line between truth and fiction, the collapsing wall between "memoirs" and invented lives.
"People have no idea how crazy it is when you're working in an agency," Ginsberg said. "The real life of a manuscript begins when it lands on the desk of a busy agent somewhere. And what happens from that point is often bizarre. No matter how many absurd things I dreamed up in my book, the real world was often just as insane."
By the end of both books, Claire Truman and Angel Robinson have survived their baptisms into big-time publishing. But they have also flirted with nervous breakdowns - which both authors say are true to life.
"I'd like to think I'm writing a book for a lot of young people I know," said Clark. "I mean, we invest in our jobs, it's a huge part of our lives. And when a boss comes along who threatens all that, it can be a terrible thing."
Copyright 2018 The Lawrence Journal-World. All rights reserved. This material may not be published, broadcast, rewritten or redistributed. We strive to uphold our values for every story published.