Two major changes are on tap in 2007 for Lawrence's 10,000 public school students.
The most noticeable difference will be in buildings - six major construction projects wrap up this year.
The $54 million in construction projects from the 2005 bond referendum will bring one new school and dozens of updated classrooms, gymnasiums and facilities at the city's junior highs and high schools.
But what could be the most far-reaching change will be in the face of the school district's leadership: Four positions are up for grabs on the seven-member Lawrence school board during the April 3 election.
New faces
The first candidate has emerged in the upcoming April 3 election for four seats on the Lawrence school board.
Marlene Merrill, who chairs the Lawrence Arts Commission, is the only candidate who has filed so far, Douglas County Clerk Jamie Shew said Tuesday.
Shew said Merrill, former director of assessments for the district, filed Thursday.
Board members whose four-year terms expire this year are Sue Morgan, Cindy Yulich, Rich Minder and Leonard Ortiz.
Minder has said he plans to run for re-election and Ortiz has said he is leaning against it. Yulich and Morgan both say they won't run again.
If more than eight candidates emerge, a primary will be Feb. 27.
Bruce Passman, deputy superintendent, said the district's administration team also will see a change this year, as three top administrators retire.
Tom Christie, executive director of educational programming; Sandee Crowther, executive director of planning and program improvement; and Janice Nicklaus, executive director of educational programming-instruction, all will retire at the end of the school year.
What's on the agenda for USD 497
"We want to continue to seamlessly move into a new organization and make sure we're focusing on the right things, especially supporting teachers and developing and implementing effective instructional strategies for kids," Passman said.
Big celebration
One of the biggest additions to the school district will be the $31.9 million South Junior High School building, which is now taking shape just northeast of the existing school building at 2734 La.
The new 114,000-square-foot South building - which includes 51 classrooms, a library/media center, competition and auxiliary gymnasiums, and an auditorium - is expected to open Aug. 17, the first day of classes for the 2007-2008 school year.
"That's a big event," Passman said. "That's a big '07 celebration."
Tom Bracciano, division director of facilities and operations planning, said construction is on schedule.
"South is going up. They keep adding more and more blocks," Bracciano said. Walls are going up for the auditorium and the front commons area, giving the building some shape, he said.
Adjacent to South is a related cafeteria construction project at Broken Arrow School.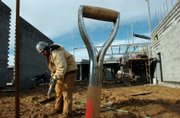 Other projects
Other projects are moving along at the district's other junior highs, including a $6.9 million construction job at Southwest Junior High School.
"If you walk in there today, it looks done," Bracciano said. "It's a really pretty addition. It's come out well."
An expansion to Southwest's cafeteria was finished in October. The rest - 16 classrooms, four offices, a small conference space and another gym - will be ready this month.
At West Junior High School, $6 million in construction is continuing on 13 classrooms. And at Central Junior High School, $4 million is being spent on six classrooms and gym addition. Both projects are expected to be finished in late March, Bracciano said.
At Lawrence High School, $3.6 million of work is under way for three new science classrooms with labs, east gym renovations and new locker rooms. That's expected to be finished in July.
And at Free State High School, a $1.8 million project will add space for industrial technology. That's on schedule to be finished in February.
Copyright 2018 The Lawrence Journal-World. All rights reserved. This material may not be published, broadcast, rewritten or redistributed. We strive to uphold our values for every story published.