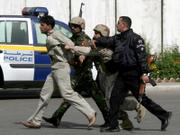 Baghdad, Iraq — He came to praise workers who believe better days are ahead for Iraq. Then he watched helplessly as some lay mortally wounded and others staggered about in agony and disbelief.
Somehow a bomb was smuggled into a place where the security should be airtight: a government building ringed by Iraqi police for a visit by the Shiite Vice President Adel Abdul-Mahdi.
Just hours before his arrival, U.S. soldiers with bomb-sniffing dogs combed the site.
And, in the end, it may have been just luck that saved Abdul-Mahdi from joining the 10 who died Monday during an employee awards ceremony at the ministry of public works.
He had made a welcoming address and then the public works minister gave a short speech. He was stepping down when the bomb, stashed somewhere near the makeshift stage and possibly hidden in the speakers' podium, ripped through the meeting hall - raising speculation that it was on a timer that was set too long to hit its target.
But the message was still chilling: that suspected Sunni militants can strike anywhere despite a major security crackdown across Baghdad.
Among those killed were several ministry employees, police said. More than 25 were wounded, including the public works minister, Riyad Gharib.
Abdul-Mahdi - smothered by his bodyguards in an instant - suffered minor leg injuries and was hospitalized for tests, his office said. He was later released.
"I heard a big explosion," said Tagrid Ali, a public works ministry employee who attended the gathering to honor outstanding workers. "I fell to the ground, and the whole place was filled with black smoke."
Suspicion for the attack fell on Sunni insurgents, who have waged nonstop bombings and attacks against Iraq's majority Shiites for cooperating with the U.S.-backed government.
Adbul-Mahdi is one of two vice presidents. The other, Tariq al-Hashemi, is Sunni.
An Associated Press photographer witnessed security forces hustling a man from the building, but there were no immediate reports of any arrests.
"The aggression against you this day is further proof that these groups are doing their best to destroy Iraq's unity," said a message to the vice president from Abdul-Aziz al-Hakim, who heads the country's largest Shiite political group.
Even as Iraqis learned of the attack, word was coming from neighboring Jordan that their president, Jalal Talabani, was facing more medical tests.
Talabani, from Iraq's Kurdish north, was taken to Amman after falling unconscious Sunday. His son, Qubad Talabani, said the 73-year-old leader was "up and about" and blamed the episode on fatigue and exhaustion.
"He'll be back in Baghdad soon," added Foreign Minister Hoshyar Zebari.
Copyright 2018 The Associated Press. All rights reserved. This material may not be published, broadcast, rewritten or redistributed. We strive to uphold our values for every story published.