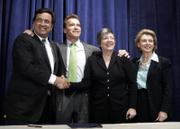 Washington — Five Western governors agreed Monday on a plan to cut their states' emissions of gases linked to global warming and to establish a regional carbon trading system, though they stopped short of saying how drastically they will seek to reduce greenhouse gases.
The governors - including Arnold Schwarzenegger, a California Republican, and Democrats from Arizona, Oregon, New Mexico and Washington - said that within six months they will set a regional target for lower emissions. A year after that, they pledged, they will devise a regional cap-and-trade system allowing polluters to buy and sell greenhouse gas pollution credits.
"In the absence of meaningful federal action, it is up to the states to take action to address climate change and reduce greenhouse gas emissions in the country," said Arizona Gov. Janet Napolitano. "Western states are being particularly hard hit by the effects of climate change."
The move won immediate plaudits from environmentalists. Jeremiah Baumann, an environmental advocate at the Oregon State Public Interest Research Group said, "This regional global warming solution will benefit the environment on a global scale."
It remained unclear how much the five states will cut their carbon dioxide emissions, and how soon they will do it. Several states on the East and West Coast have adopted reduction targets in recent years, but in the immediate term all fall short of the targets that the European Union, Canada and Japan are seeking to meet by 2012 under the international treaty known as the Kyoto Protocol.
California passed legislation late last year mandating a 25 percent cut below current levels of greenhouse gases, which would bring its emissions down to 1990 levels. The four other Western governors have all established reduction goals through executive orders that are slightly more modest than California's, and state officials predicted the final pact will likely equal the sum of all the states' individual targets.
Dan Skopec, undersecretary for California's Environmental Protection Agency, said the significance of the agreement is that companies in the five states will be able to trade emissions.
"It's not as important that the different states may have a different emissions reduction goal, the important thing is that an emission reduction in Arizona means the same thing as an emission reduction in California or Oregon," Skopec said.
The Western states' agreement came as scientists and interest groups continued to debate the best way to curb the country's global warming pollution.
Copyright 2018 The Lawrence Journal-World. All rights reserved. This material may not be published, broadcast, rewritten or redistributed. We strive to uphold our values for every story published.