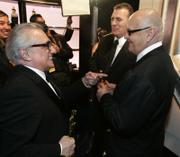 Los Angeles — Martin Scorsese's mob epic "The Departed" won best picture at the Academy Awards on Sunday and earned the filmmaker the directing prize that had eluded him throughout his illustrious career.
"Could you double-check the envelope?" said Scorsese, who arguably had been the greatest living American filmmaker without an Oscar.
He received his Oscar from three contemporaries and friends, Steven Spielberg, Francis Ford Coppola and George Lucas. "So many people over the years have been wishing this for me."
In an evening when no one film dominated as the Oscars shared the love among a wide range of movies, three of the four acting front-runners won: best actress Helen Mirren as British monarch Elizabeth II in "The Queen"; best actor Forest Whitaker as Ugandan dictator Idi Amin in "The Last King of Scotland"; and supporting actress Jennifer Hudson as a soul singer in "Dreamgirls."
The Winners
Best Picture"The Departed"Best DirectorMartin Scorsese"The Departed"Best ActorForest Whitaker"The Last King of Scotland"Best ActressHelen Mirren"The Queen"Supporting ActorAlan Arkin, "Little Miss Sunshine"Supporting ActressJennifer Hudson, "Dreamgirls"Foreign Language Film"The Lives of Others," GermanyAdapted ScreenplayWilliam Monahan, "The Departed"Animated Feature Film"Happy Feet"Art Direction"Pan's Labyrinth"Cinematography"Pan's Labyrinth"Costume"Marie Antoinette"Documentary Short Subject"The Blood of Yingzhou District"Makeup"Pan's Labyrinth"Animated Short Film"The Danish Poet"Live Action Short Film"West Bank Story"Visual Effects"Pirates of the Caribbean: Dead Man's Chest"
The other front-runner, Eddie Murphy of "Dreamgirls," lost to Alan Arkin for "Little Miss Sunshine."
"For 50 years and more, Elizabeth Windsor has maintained her dignity, her sense of duty and her hairstyle," said Mirren, who has been on a remarkable roll since last fall as she won all major film and television prizes for playing both of Britain's Queen Elizabeths.
Arkin played a foul-mouthed grandpa with a taste for heroin in "Little Miss Sunshine," a low-budget film that came out of the independent world to become a commercial hit and major awards player.
"More than anything, I'm deeply moved by the open-hearted appreciation our small film has received, which in these fragmented times speaks so openly of the possibility of innocence, growth and connection," said Arkin.
Hudson won an Oscar for her first movie, playing a powerhouse vocalist who falls on hard times after she is booted from a 1960s girl group. The role came barely two years after she shot to celebrity as an "American Idol" finalist.
"The Departed" led the evening with four Oscars, also winning for adapted screenplay and editing.
Copyright 2018 The Lawrence Journal-World. All rights reserved. This material may not be published, broadcast, rewritten or redistributed. We strive to uphold our values for every story published.