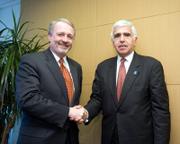 New York — If Sirius and XM have their way, Howard Stern and Oprah Winfrey soon could be sharing the same airwaves.
Long bitter rivals, Sirius Satellite Radio Inc. and XM Satellite Radio Holdings Inc. have decided that they would be better off working as one rather than duking it out in the marketplace.
Whether federal regulators agree about that remains to be seen.
Just hours after the two companies announced an agreement to combine on Monday, Kevin Martin, the chairman of the Federal Communications Commission, indicated that approval from his agency wouldn't come easily, particularly because the FCC has a provision in place specifically barring both satellite radio licenses from being owned by the same company.
The FCC will evaluate any proposed transaction to see if it's in the public interest, Martin said in a statement, but he added that: "The hurdle here, however, would be high as the Commission originally prohibited one company from holding the only two satellite radio licenses.
"The companies would need to demonstrate that consumers would clearly be better off with both more choice and affordable prices," Martin said.
Saving costs
XM and Sirius have racked up significant financial losses to subsidize new subscribers even as they escalated an arms race to lock in long-term programming deals. Sirius signed a five-year, $500 million deal in 2004 with the shock jock Stern, while XM paid $650 million for an 11-year deal with Major League Baseball. XM signed a three-year, $55 million deal with Winfrey.
A major rationale for combining the two companies would be to save costs.
Mel Karmazin, the CEO of Sirius who will become CEO of the new company, declined to comment in an interview about how much the companies hoped to save by the merger. He said he was optimistic about achieving regulatory approval, but acknowledged: "We understand that there's a lot of work to be done."
Investors and analysts have been speculating about a deal for months, and are hoping that the cost savings that would result would give the companies a boost amid softening retail demand. Both services offer dozens of channels of talk and commercial-free music for monthly fees of about $13.
XM radio receivers can't receive signals from Sirius, and vice versa. But Karmazin and Parsons said in an interview that the companies are working on developing a receiver that could receive both signals.
In the meantime, they said, assuming the deal goes through, the companies would make other arrangements to bring programming that's currently exclusive to one provider to listeners of the other, such as getting Major League Baseball games - currently only available on XM - to Sirius listeners.
Merger of equals
The companies billed the deal as a merger of equals, with shareholders of both companies owning approximately 50 percent of the combined company. However, Karmazin will run the combined company and XM's CEO Hugh Panero will stay on only until the deal is closed. XM Chairman Gary Parsons will remain in that role.
XM shareholders will receive 4.6 shares of Sirius stock for every share they own, valuing the company at $4.57 billion or $17.02 per share based on Friday's closing price for Sirius shares.
That gives XM shareholders a premium of 22 percent to the $13.98 closing value of their stock Friday. Markets were closed Monday for the Presidents Day holiday.
A combination also would have to meet antitrust approval from the Department of Justice. The companies are expected to argue that they compete not only with each other but also with traditional radio and a growing base of digital audio sources such as iPods, mobile phones and non-satellite digital radio.
It's too early to say what the deal might mean for subscription prices. The merger could bring down the cost of providing service, but at the same time give the company more pricing power as the only U.S. satellite radio provider.
Neither XM nor Sirius have reported a profit yet. Both stocks declined more than 40 percent last year on concerns about their continued growth in subscribers, but investors have held out hope of a merger.
The combined company would have had about $1.5 billion in revenues in 2006 and about 14 million subscribers, they said. The companies said they would work together to decide on a new name and to determine where it would be based. XM is based in Washington, D.C., while Sirius is based in New York.
Copyright 2018 The Associated Press. All rights reserved. This material may not be published, broadcast, rewritten or redistributed. We strive to uphold our values for every story published.