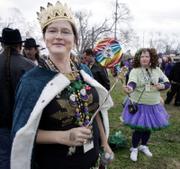 New Orleans — Carnival revelers streamed into the city Saturday - and Mardi Gras organizers hoped to throw such a fantastic party that visitors would vow to return to this tourist-dependent city again.
Tourism officials expect at least as many visitors as last year, 700,000, to come for the annual celebration. It's the second time the event has been put on since Hurricane Katrina struck.
"It's amazing. I've never been to anything better," said Eric Johnson, 19, of Knoxville, Tenn. It was his first time visiting for the event, and he caught so many strands of beads that they covered his chest at least two inches deep.
Parades are planned each day, leading to Fat Tuesday. Some parade-goers began staking out prime spots to see the elaborate processionals and perhaps even glimpse a celebrity.
Stately, oak-lined St. Charles Avenue had a midway feel, partly lined with vendors selling cotton candy, sandwiches and other food. The median was lined with ladders, many topped with cushioned seats for children.
Barbecue smoke from grills filled the air, and rap, jazz and '80s pop blared from boom boxes.
Kelly Phillips, 45, of New Orleans, said he arrived at 7 a.m. to set up his scaffolding with multilevel seats for several people. "You have to get up early to stake your place," He said. "It's like the gold rush."
The Krewe of Endymion, one of Carnival's best known groups, marched Saturday afternoon with "American Idol" winner Taylor Hicks in the lead. The salt-and-pepper-haired singer teased the crowd to shout louder for the strands of beads around his knuckles.
The float ahead of his, adorned with a big fleur-de-lis and carrying several members of the New Orleans Saints football team, also got people jockeying to take photographs and grab the "throws" tossed from the float.
After the parade, Hicks performed with Al Green and Journey at Endymion's sold-out ball at the Superdome.
Other celebrities set to participate in weekend parades included actor James Gandolfini of "The Sopranos."
New Orleans is slowly recovering from Katrina, the signs of which are still obvious in swaths of the city but largely unnoticeable to those who stay in the touristy French Quarter and central business district.
For local officials, the festivities are a chance for New Orleans to get an economic boost; many of the city's small businesses have struggled since Katrina.
Darryl Daquin, an Endymion member, said there's a great sense of pride in putting on a good show for the people. Last year, he said many people thought staging Carnival was frivolous.
"But this was a bright spot in many people's misery," he said. "You have to understand how important this is to the city's culture."
One of the hopes this year, he said, is to show the city can host a tourism event like this.
Before the storm, about a million visitors came here over the four days culminating on Fat Tuesday, bringing about $250 million to New Orleans, Schulz said.
Copyright 2018 The Associated Press. All rights reserved. This material may not be published, broadcast, rewritten or redistributed. We strive to uphold our values for every story published.