Baghdad, Iraq — Thousands of U.S. troops swept house-to-house through mostly Shiite areas virtually unopposed Wednesday in the opening phase of the long-awaited Baghdad security crackdown. But four U.S. soldiers were killed outside of the capital in an area not covered by the operation.
Elsewhere in Baghdad, Iraqi soldiers and police set up new checkpoints across the city of 6 million people, snarling traffic and forcing people to walk across bridges jammed with cars and trucks.
The U.S. military said 14 suspects were detained and four weapons caches discovered during the day's operation - seemingly a low tally. But U.S. officials say they are more concerned about establishing a long-term presence in the areas so that the public will gain confidence in security forces to protect them.
Outside the capital, fighting continued.
The military said four U.S. soldiers were killed Wednesday in an explosion in Diyala province, among six new U.S. deaths announced by the military. U.S. officers have expressed concern that insurgents and militias are leaving Baghdad to transfer the fight to Diyala and other provinces that border the capital.
Iraq's Sunni vice president, Tariq al-Hashemi, warned that advance publicity on the security operation had given Shiite militias time to flee the city for bases elsewhere in the country.
"I have information that numerous of their leaders are now in Basra and other southern provinces in safe havens," he told Al-Arabiya television. "I believe that those who were behind the bloodshed and the chaos should be pursued and criminals must face justice."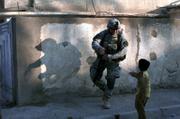 At least 38 Iraqis also were killed or found dead nationwide, including four civilians who died when a parked car bomb struck a predominantly Shiite district in central Baghdad. Only five bullet-riddled bodies were found on the streets of the capital, an unusually low number of apparent victims of so-called sectarian death squads mainly run by Shiite militias that have killed thousands in the past year.
Conflicting reports, meanwhile, emerged about Shiite cleric Muqtada al-Sadr's whereabouts. The chief U.S. military spokesman, Maj. Gen. William Caldwell, said the cleric had left the country and was believed to be in Iran, but al-Sadr's supporters insisted he was still in Iraq. Al-Sadr commands a following of tens of thousands, and his influence could sway the delicate political balance in Baghdad.
If al-Sadr had gone to Iran at a time when new U.S. troops are expected in Baghdad to reinforce Prime Minister Nouri al-Maliki's new security plan, it would seriously discredit him in the eyes of his followers as well as undermine his political standing in the country. Al-Sadr twice fought U.S. forces in major battles in Baghdad and Najaf in 2004, after the U.S. had issued a now-forgotten warrant for his arrest.
Al-Maliki, a Shiite, is an ally of al-Sadr, and his failure to confront the sectarian violence carried out by the cleric's Mahdi militia had been partly blamed for the failure of two previous security operations. But the prime minister has promised not to let politics interfere with the current crackdown.
Copyright 2018 The Associated Press. All rights reserved. This material may not be published, broadcast, rewritten or redistributed. We strive to uphold our values for every story published.