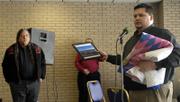 Dan C. Jones, chairman of the Ponca Tribe of Oklahoma, gets passionate when telling the story of how his nation has been effectively split into two tribes: one in Oklahoma and one in Nebraska.
"We are not one, but we are the same," he said.
About 125 years after the division, council members from Oklahoma and Nebraska met together for the first time Wednesday at Haskell Indian Nations University. Leaders are discussing how to help preserve the Ponca language for the 2,600 members in Nebraska and 3,300 in Oklahoma.
Jones and Larry Wright Jr., chairman for the Ponca Tribe of Nebraska, exchanged gifts in front of Haskell students during a ceremony at Curtis Hall.
"I think there's a lot of significance here, too, because not only does Haskell represent a place of higher learning for both people but both tribes had students attend this facility," said Kinsel Lieb, administrator for the Ponca Tribe of Oklahoma.
According to historical records, in 1877 the Poncas were forced to leave Nebraska for Oklahoma after the government had mistakenly given away their land to the Sioux.
A few years later, Chief Standing Bear started and won a legal challenge to regain land in Nebraska. His success ultimately led to two separate tribes in the different states.
"I would like to advise and counsel future politicians and statesmen of the U.S. government that the credibility of a government is its lifeline. It will mark how great that nation will be in history," Jones said.
Congress terminated the tribe in Nebraska in the 1960s, and it was reinstated in 1990. The northern tribe is still feeling the effects of that period, as the Nebraska members have no fluent speakers of the Ponca language.
"In order for us to continue to be a strong nation, Poncas, we need to have that language. We need to have that culture," Wright said.
With the cultural resources the southern Poncas of Oklahoma have, tribal leaders are using the meetings this week to talk about how to bridge the gap and use technology and education to give Nebraska tribe members more access to the language. Wright said the tribes may want to pool their resources together to take advantage of federal government preservation programs.
"We have this common tradition and common language. So if we can get together to do that, we can get together to do a lot of other things," Wright said.
Leaders hope the partnership can lead to other opportunities, such as economic development.
"This is a big step toward bringing both of our tribes back together," Wright said in a speech to students.
The meeting will continue today at Haskell's Stidham Union.
Copyright 2018 The Lawrence Journal-World. All rights reserved. This material may not be published, broadcast, rewritten or redistributed. We strive to uphold our values for every story published.