New York — Blowing snow and sleet glazed windshields and roads across the Northeast and the Midwest on Wednesday, messing up Valentine's Day flower deliveries and wrecking couples' plans for romantic dinners.
The storm grounded hundreds of flights and forced the closing of schools and businesses from Kentucky to Maine. Many of those stuck at home had no heat or lights because of blackouts that affected more than a quarter-million customers.
"I'm just trying to figure out where to take my wife for Valentine's Day," said Skip Daniels, the emergency management director in Sussex County, N.J.
At least 13 deaths were blamed on the huge storm system.
Blizzard warnings were posted for parts of New Hampshire, Massachusetts and Maine, where as much as 2 feet of snow was possible.
There were hundreds of accidents. The Ohio State Highway Patrol alone handled more than 1,200, but there were few injuries because most vehicles were moving slowly, Sgt. Brett Gockstetter said.
The storm's cold, snow, sleet and rain made life difficult for Valentine's Day messengers. "Cold. Slippery. Nobody has their sidewalks sanded," said Caroline Roggero at Rose Petal Florist in Newport, R.I. "They all want their delivery today."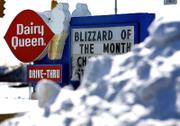 Some delivery drivers got stuck on the roads. Flowers delivered to offices were turned away because the businesses were closed. And customers had to change their orders to have flowers delivered to homes instead of places of work.
Americans were predicted to spend $16.9 billion this Feb. 14, according to the National Retail Federation's annual Valentine's Day survey. More than 45 percent of consumers planned an evening out.
Edigio DiPaola, owner of Spennato's Restaurant in Northfield, Ohio - a good place for a romantic dinner with its low lighting, intimate tables, lace tablecloths, Italian wine and marinara sauce - was not expecting much of a Valentine's Day crowd, not with 15 inches of snow on the ground and the temperature in the single digits.
"We are dead," he said, his heavily Italian-accented voice dripping with disappointment. "No one's on the roads. We don't expect anything tonight. It's very bad news - this was a big day for us. Now it will be way below average."
Copyright 2018 The Associated Press. All rights reserved. This material may not be published, broadcast, rewritten or redistributed. We strive to uphold our values for every story published.