Photo Gallery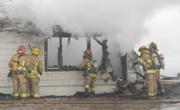 Linwood house fire
A fire destroyed a garage and about half of a Linwood family's home, but a teenager and his two brothers escaped the morning blaze without injury.
"Everybody's good. The kids are doing OK," said Dawn Fouch, the boys' mother, who was on her way to work in the Kansas City area when the fire started.
After she received a call from the sheriff's office, Fouch returned to her home at 204 Bowen St. and learned that her 17-year-old son awakened after having difficulty breathing.
When he rolled over, the air was hot and flames were climbing his bedroom wall. He then went to the other end of the house, gathered his brothers, ages 14 and 9, and the family's dogs and made it outside safely.
Dan Tallman, chief of Sherman Township Fire Department, said the morning blaze significantly damaged the south end of the one-story house.
The call came in shortly after 7:30 a.m., and firefighters had it under control after about 40 minutes, Tallman said. Crews from Reno and Stranger townships and Eudora and Tonganoxie city departments also responded.
"They did what they could," Fouch said.
An investigator with the Kansas State Fire Marshal's office was on the scene Tuesday afternoon and interviewing the family. The investigator was looking for a possible cause and origin of the fire, but Tallman said no specific information was available Tuesday night.
Fouch said the family would stay with some friends. The Basehor-Linwood school district had canceled classes Tuesday because of the winter storm that moved in overnight Monday. It also canceled classes for today.
Tallman said about half of the 2,500-square-foot house was gone. The rest of the home sustained smoke and water damage.
The American Red Cross provided vouchers for the family to buy clothing and groceries, said Jo Burkett, director of the Leavenworth County Chapter of the American Red Cross.
Leavenworth County records listed Karyn Stiltner as the property owner.
Copyright 2018 The Lawrence Journal-World. All rights reserved. This material may not be published, broadcast, rewritten or redistributed. We strive to uphold our values for every story published.