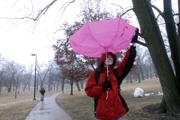 Watch out for slipping and sliding today.
"It'll be an icy morning commute that could definitely warrant watching for closings," 6News chief meteorologist Jennifer Schack said late Monday.
Monday's light rain, combined with falling temperatures, was expected to set the stage for slick roads this morning.
Heavy snowfall, expected for Monday night, should subside by the morning commute, with any light snow ending by midday, Schack said. In all, about two to three inches of accumulation are expected.
The latest round of wintry weather had local school officials on alert and road crews wishing for escape Monday.
"We've got airplane tickets and we're headed to Fort Lauderdale," Mike Perkins, operations manager for Douglas County public works, said with a chuckle. "We're tired of cold weather."
Perkins said Monday that crews would work through the night and try to get ahead of the snow by pretreating roads with a layer of salt.
Lawrence school district facilities and operations staff planned to survey school parking lots and sidewalks in the early morning. And employees of Laidlaw Transit Inc., the district's bus provider, were expected to tour routes in the early morning hours.
The district tries to make decisions about school closings before 6 a.m., said Rick Gammell, the district's director of special operations, transportation and safety.
A bit of snow is one thing, Gammell said.
"We can certainly transport, and people can get around in the snow," he said. "The ice is a little bit different story."
District schools closed for two consecutive days earlier this winter because of icy conditions.
Copyright 2018 The Lawrence Journal-World. All rights reserved. This material may not be published, broadcast, rewritten or redistributed. We strive to uphold our values for every story published.