When Gen. David Petraeus took over last week as commander of U.S. forces in Iraq, he expressed optimism that sectarian and insurgent violence in that country could be ended.
The man who last year led a Kansas Army National Guard battalion in Iraq agrees.
"I think as the Iraqi police get better, things will get better, but it's a tough challenge," Col. James Trafton said during a recent interview.
Trafton, 55, who commanded the 2nd Battalion, 137th Mechanized Infantry Regiment, said the Iraqi Army had improved considerably and was taking over responsibility for more territory from U.S. forces.
"The emphasis has been on the army, and now it's time to get the police trained," he said.
In Iraq
Since the battalion returned from Iraq in November, Trafton has been able to follow the war from the comfort and safety of home. But during his year in Iraq, he saw his soldiers work 12-hour days in 120-degree heat patrolling a rural area on the outskirts of Baghdad, guarding their home base at Camp Slayer, removing improvised explosive devices and providing or assisting with security for important visitors, including top military leaders, Congressional delegations, then-Secretary of Defense Donald Rumsfeld, Vice President Dick Cheney and even President Bush.
He also saw some of the soldiers wounded by bombs, and there was one fatality: Sgt. Jesse Davila of Greensburg. Davila, 29, was killed and others were injured when a suicide bomber drove up to their vehicle. Davila was with the Lawrence-based Company A.
"I was on patrol with my guys when I was called back," Trafton said, recalling that day in late February nearly a year ago. "It's tough. It goes through your mind about what you could have done differently to prevent this. In this case, everybody did exactly what they were trained to do."
There were many close calls with roadside bombs, Trafton said.
"I'd just knock on wood, thank God and pat my chaplain on the back," he said. "We could have lost a lot more."
Security, humanitarian missions
The Lawrence company handled a major share of security duties for Camp Slayer, near Baghdad International Airport. It also served as a quick reaction force. Company C from Wichita handled patrol duties, and Company B, also from Wichita, escorted the dignitaries and operated the Joint Visitor's Bureau for Petraeus' predecessor, Gen. George Casey.
Rumsfeld, who flew to Baghdad several times, was interested in seeing and talking to the soldiers, Trafton said.
"He would drive my guys crazy because he would go from mess hall to mess hall because he wanted to go where the soldiers were," Trafton said.
Despite Rumsfeld's reputation of having a gruff demeanor, Trafton said he found him to be "very personable."
Trafton's battalion also conducted humanitarian missions and worked with Iraqis on $2.5 million worth of infrastructure projects that included repairing sewer and water systems. Those projects take time because of language barriers, he said.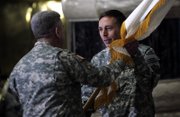 "You work with Iraqi contractors and they don't speak English," Trafton said. "We had to take interpreters. Sometimes I'd take two interpreters and hope we got it right."
The infrastructure and humanitarian projects result in good relations with Iraqi people, Trafton said. Commanders work with sheiks and religious leaders to get things done, he said. By the time his tour of duty was up, Trafton had built a friendship with a local sheik. The sheik tried to get Trafton to stay by offering one of his many wives.
"I said I don't need another wife," Trafton said with a laugh. "We have only one wife in our country."
On the home front
At their Kansas City-area home, Theresa Trafton communicated regularly with her husband by e-mail and sometimes phone. But she didn't watch the news and didn't want to hear about the Iraq war. She worked in their yard and garden and remodeled a hallway.
"I just tried to keep busy," Theresa Trafton said. The Traftons have four daughters, ages 9 to 30, and four grandchildren.
James Trafton is a full-time Guardsman and a career soldier. He is a Vietnam veteran, where he served with the Army's 1st Cavalry Division. He's earned several service medals as well as Bronze Stars from Vietnam and Iraq.
Trafton follows the war news but won't comment on war conduct policies, such as what specific changes, if any, should be made. And he won't say much about any Iranian influence that might be evident in Iraq.
"There's a lot of stuff showing up from a lot of places," he said.
Memorable return
Trafton won't forget the battalion's "welcome home" greeting in November, when about 3,000 cheering people waited for them to arrive in a convoy of buses at Topeka's Expocentre escorted by the Patriot Guard motorcycle group. Also waiting were Gov. Kathleen Sebelius and Kansas Adjutant General Tod Bunting. He gets emotional talking about it.
"Standing there listening to those people yell - it got to me," he said. "It still does. Part of that is because of Vietnam. They snuck me back into the country. I don't ever want to see that happen again in this country. It's not fair to the soldiers."
After returning from Iraq, Trafton was placed in charge of the Guard's strength management, which oversees recruiting and retention. He considers the new job a challenge but nothing like dealing with the Iraqi heat ("like being in a clothes dryer") or the pressure of being battalion commander in a war zone.
"It's different when you are responsible for people 24 hours a day for an entire year," he said. "You can't just say I'm going to take Sunday off. It doesn't work that way."
Copyright 2017 The Lawrence Journal-World. All rights reserved. This material may not be published, broadcast, rewritten or redistributed. We strive to uphold our values for every story published.