Baghdad, Iraq — Baghdad's streets were electric with tension Wednesday as U.S. officials confirmed the new security operation was under way. U.S. armor rushed through streets, and Iraqi armored personnel carriers guarded bridges and major intersections.
New coils of barbed-wire and blast barriers marked checkpoints that caused traffic bottlenecks. U.S. Apache helicopters whipped the air over parts of the capital where they hadn't been seen before.
But gunfire still rang out across the city, and some residents said they doubted life would get better. "Nothing will work, it's too late," said Hashem al-Moussawi, a resident of the Sadr City Shiite enclave who was badly wounded in a bombing in December.
Underlining the dangers, a U.S. Marine transport helicopter crashed northwest of Baghdad, killing all seven on board - the fifth American aircraft lost in Iraq in just over two weeks. A military statement did not give a cause for the crash, but a senior U.S. defense official in Washington said the CH-46 Sea Knight did not appear to have been hit by hostile fire. An Iraqi air force officer, however, said the chopper was downed by an anti-aircraft missile. An al-Qaida-linked Sunni group claimed in a Web statement that it was responsible.
The latest crash occurred five days after a U.S. Army Apache helicopter went down in a hail of gunfire north of Baghdad. Three other helicopters - two from the Army and one operated by an American security firm - also have crashed since Jan. 20. A total of 27 people - 23 U.S. service members and four American civilian contractors - were killed in the five crashes.
At checkpoints that seemed to have been thrown up overnight - some of them blocking half the lanes of traffic on wide streets - Iraqi police and army soldiers searched cars at random. Drivers and passengers had to get out and show identity papers.
Adding to the tension, Iraqi army and police convoys fired rounds into the air, warning motorists to make way for passing forces. The security troops drove over traffic medians and into incoming traffic.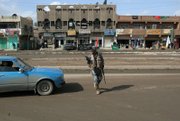 Fear is evident
In parts of the city only a few shops were open, a reminder of the fear people have of more car and suicide bombings, which have hit Baghdad with regularity in recent weeks.
Lines outside gas stations stretched for more than a mile, as the city is experiencing its worst fuel crisis in months. Supplies are very low because refining capacity is down, a problem compounded by hoarding.
The streets became nearly deserted well before nightfall, a surprising sign of fear among a population that has lived through wars for much of the past 25 years. Those with money to spare, residents say, are stocking up on fuel for generators and on basic foodstuffs like flour, grains and potatoes.
With electricity available only about two hours a day in much of the city, residents also were buying candles and lanterns. The rickety stands of some outdoor food markets, a favorite target for suicide bombers, stood empty.
"We live hand-to-mouth and don't have money to stock up on anything," said Ibrahim Mohammed, a 78-year-old retired engineer from the Azamiya district. The predominantly Sunni area in northern Baghdad was likely to be high on the list of targets in the Baghdad security plan.
"No one goes to work anymore," Mohammed said.
Billboard campaign
Gunfire rang out across the capital, and the wail of police and ambulance sirens seemed incessant. The buzz of low-flying U.S. helicopters and growl of fighter jets was nonstop above a new crop of government posters and billboards speaking of Baghdad's struggle.
"Our streets are deserted and our blood is fair game," declared one that showed an empty street strewn with debris from a bombing.
Another billboard showed a young man weeping because he had not reported suspicious activity to authorities. "I should have done the right thing," he says.
Still another billboard message implored: "Be a hero and report suspicious behavior."
Copyright 2018 The Associated Press. All rights reserved. This material may not be published, broadcast, rewritten or redistributed. We strive to uphold our values for every story published.