Washington — NBC News anchor Tim Russert delivered devastating testimony Wednesday in the perjury trial of Vice President Cheney's former chief of staff.
Under a withering cross-examination in a packed courtroom, the "Meet the Press" host was unwavering in casting Lewis (Scooter) Libby as a liar for claiming Russert revealed to him that Valerie Plame was a CIA agent.
Libby tried to stare down his most prominent accuser and linchpin of the government's perjury case - even shifting his chair to see past his lawyer.
Libby is charged with lying to a grand jury when he denied telling reporters that Plame was a CIA spy, testifying that he learned of her identity from Russert.
After hobbling into court on a broken ankle, Russert settled into the witness stand with his crutches and endured a barrage of questions from Libby's lawyer Ted Wells.
Pressed repeatedly by Wells to admit he might have forgotten telling Libby about Plame, Russert insisted, "That would be impossible, because I didn't know who that person was until a few days later."
He recalled that Libby had called him in July 2003 to gripe about MSNBC anchor Chris Matthews, and if he had known about Plame then, "I would remember it. ... I wish I had known about it."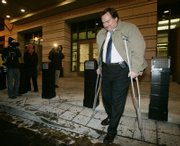 Used to asking tough questions rather than taking them, Russert was quiet and cautious, even as Wells sought to distance the $5 million-a-year anchor from Libby's working-class jury by asking about his salary.
In another dramatic development Wednesday, prosecutors played tapes showing that Libby told a grand jury in 2004 that Cheney rebuffed Libby when he tried to tell the vice president that he discussed Plame with reporters.
Libby testified that Cheney cut him off.
"My clear sense was he did not want me to go on, so I did not go on," Libby said.
It was Cheney who first told Libby in June 2003 about Plame and ordered him to discredit Wilson.
But after the FBI and Justice Department launched a criminal probe of the Plame leaks, Libby said he decided to fill Cheney in.
He said that he twice approached Cheney to offer details about which reporters he had talked with about Plame, but Cheney stopped him, saying, "You don't have to."
Copyright 2018 The Lawrence Journal-World. All rights reserved. This material may not be published, broadcast, rewritten or redistributed. We strive to uphold our values for every story published.