Orlando, Fla. — NASA astronaut Lisa Marie Nowak stalked her romantic rival for two months before attacking her in a parking lot Monday morning at Orlando International Airport, a hand-written statement by the victim reveals.
Air Force Capt. Colleen Shipman stated that Nowak was an acquaintance of her "boyfriend" but the two had not met until the astronaut doused her with pepper spray.
Nowak drove from Houston to Orlando to "physically confront and assult (sic) me," Shipman wrote when applying for a restraining order against Nowak.
On Tuesday, a haggard Nowak appeared in court twice in Orlando to face a bevy of charges, including attempted first-degree murder.
Late in the day, the Navy captain posted $25,500 bail at the Orange County Jail and was fitted with an ankle monitoring device. Nowak, who left the bail bond office accompanied by two astronauts who flew in from Houston to help her, pulled a dark jacket over her head as a shield from the media glare that surrounded her.
Nowak, a mother of three who recently separated from her husband of 19 years, faces life in prison if convicted of first-degree attempted murder.
"What we have is a desperate woman who wanted to have a conversation with the other woman," Nowak's attorney Donald Lykkebak said. "What they have charged her with is premeditated, attempted murder."
But police said Nowak intended to kill Shipman, 30, when she bought a knife, BB gun and other supplies, got in her car in Houston and made the 12-hour drive to Orlando, wearing diapers so she would not have to stop along the way.
"Mrs. Nowak admitted that she had obtained a victim's flight plans to Orlando without authorization from the computer of the man, with whom she and the victim had a common interest," according to a police affidavit in support of the attempted murder charge.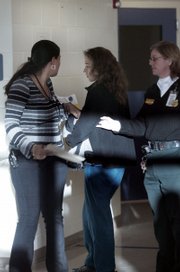 Space shuttle pilot Bill Oefelein, with whom Nowak said she was involved, flew to Florida on Monday.
In seeking the restraining order, Shipman said the astronaut followed her from the Orlando International Airport terminal to a satellite parking lot. Nowak approached Shipman's car and pounded on the window.
"I opened my window about 2 (inches) and she sprayed me with a mace or pepper spray. I threw the car in gear and drove to the parking office, where we called the police," she wrote. She said the spray burned her "head, face, eyes, nose and left hand and forearm."
NASA officials said Tuesday evening that an Orlando police detective drove to the Kennedy Space Center to interview Oefelein. An agency spokesman confirmed the astronaut was at center and cooperating with law enforcement officials. Oefelein did not respond to media request for interviews.
Michael Coats, director of NASA's Johnson Space Center in Houston, said Nowak is officially on a 30-day leave and "has been removed from flight status and all mission-related activities. We will continue to monitor developments in the case," he said.
Copyright 2018 The Lawrence Journal-World. All rights reserved. This material may not be published, broadcast, rewritten or redistributed. We strive to uphold our values for every story published.