A bone-chilling cold wave with temperatures as low as 42 below zero shut down schools for thousands of youngsters Monday, sent homeless people into shelters and put car batteries on the disabled list from the northern Plains across the Great Lakes. At least five deaths were linked to the cold weather.
The cold was accompanied by snow that was measured in feet in parts of upstate New York.
"Anybody in their right mind wouldn't want to be out in weather like this," Lawrence Wiley, 57, said at Cincinnati's crowded Drop Inn Center homeless shelter, where he has been living. Monday lows were in the single digits.
With temperatures near zero and a wind chill of 25 below, school districts across Ohio canceled classes. "We have a lot of kids that walk to school. We didn't think it was worth the risk," said Sandusky City Schools Superintendent Bill Pahl.
It was so cold that Toledo, Ohio - 5 above zero at noon, up from 4 below - even closed its outdoor ice rink. "The irony is not lost on us," said city spokesman Brian Schwartz.
With a temperature of 12 below zero and wind chill of 31 below, Wisconsin's largest school district, Milwaukee Public Schools, also shut down, idling some 90,000 children. In upstate New York, 34,000 kids got the day off in Rochester because of temperatures near zero. Schools also closed in parts of Michigan and Illinois. A few schools closed even in Minnesota, where February cold is the norm and people are accustomed to coping.
In northern Minnesota, the temperature crashed to 42 below Monday morning at Embarrass, 38 below at Hallock and 30 below at International Falls, the National Weather Service said.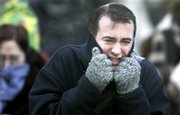 Temperatures in Grand Forks, N.D., dipped to 31 below zero early Monday at the airport, 3 degrees lower than the records set in 1982 and 1967, the weather service said.
Amtrak shut down passenger service in parts of western and northern New York state, where the cold was accompanied by as much as 2 1/2 feet of snow fed by moisture from the Great Lakes near Buffalo and Watertown. Whiteout conditions and slippery pavement shut down a 38-mile stretch of the New York Thruway during the night.
At least 30 water main breaks were blamed on the cold in Detroit, city officials said.
The cold also brought calls for help from car owners faced with dead batteries and frozen locks.
"During the weekend, 10,000 motorists called for assistance. And that's a record in recent years," Nancy Cain, spokeswoman for AAA Michigan, said Monday.
Copyright 2018 The Associated Press. All rights reserved. This material may not be published, broadcast, rewritten or redistributed. We strive to uphold our values for every story published.