Trish Koetting is scared about her Missouri Tigers playing the Kansas Jayhawks in football next year at Arrowhead Stadium in Kansas City, Mo.
And not because her restaurant might lose out on sales (she figures it'll be a "wash"), or that her beloved school might lose the game (as an MU grad and ardent fan, she claims her children literally "bleed black and gold").
"Here's my fear," said Koetting, co-owner of Hoss's Market, a gourmet caterer and fresh-food market in Columbia, Mo. "If you move one home game from here : we can live with that. It's one year. What scares me is that if Kansas City is making money, and if MU's making money and KU's making money, we'll lose it for longer than that.
"Will it be 10 years when the rivalry game is lost from on-campus sites? That's my concern. For this generation - if you're a freshman at MU or KU - they won't know what that rivalry means. How can it be a rivalry if you're not on campus, if you don't have the Zou Crew or the Antlers - or whoever you have at KU - hollering at you?
"If you take that away, you take away the whole rivalry. And that, eventually, would have to hurt you a lot more."
As the calendar turns to February - less than two weeks after KU and MU officials announced they were moving their annual football games to Arrowhead from campus sites for this year and next - the potential long-term implications of the relocated Border War battlefield are being considered in Columbia.
'Emotional ties'
Don Laird, president of the Columbia Chamber of Commerce, said his 1,300-member organization had not taken a formal position on the universities' decision to move the games - a decision guaranteed to give each of the two schools at least $1 million in each of the next two years.
But he concedes that the topic has triggered plenty of discussion in the business community, in terms of both dollars and cents and - perhaps most significantly - hearts and minds.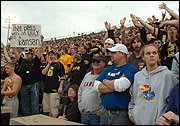 "More than anything, it's losing the emotional ties to that game that hurts," said Laird, who has led the chamber for 18 years. "But it's a done deal now. We're trying to make it as positive for us as we can make it."
The chamber intends to use the Arrowhead games during the next two years as marketing tools for both MU and Columbia.
The Kansas City metro area is considered a "stronghold" for KU, Laird said, and sharing the stage with the Jayhawks will give his community a chance to make inroads with potential future students, business associates and others.
If the relocated games stretch beyond 2008, he said, the chamber will make the most of it.
"It's our intention to showcase Columbia while we're there," he said.
David Rowe already knows what Columbia has to offer. He played defensive tackle for the Tigers from 1993 to 1997, and today owns a restaurant and bar - D. Rowe's - that draws as much as 75 percent of its game-day business from out of town.
Most of the visitors are returning fans and alumni, the kind of folks who might not make it into Columbia without the draw of a big-time rivalry game.
Bigger than homecoming
"It doesn't matter what the status of either program is," Rowe said. "It just brings a lot of people into town. It brings in more people than come back for homecoming."
As they did in Lawrence, MU athletics officials planned ahead and are scheduling a home football game to make up for the 2008 KU game being shifted to Arrowhead.
But Rowe knows that the extra game won't be against a major school, and that it likely will generate about 30 percent less business for his restaurant than a game against KU would.
The Saturday after Thanksgiving in 2008 - when the Tigers will be set to take the field in Kansas City - Rowe will be cutting his staff by 40 percent.
"Will it kill my business? No, it won't," Rowe said. "But last year we played KU here, right after Thanksgiving, and it was one of my biggest football Saturdays ever. :
"Is this going to turn into a tradition, to meet at Arrowhead? I hope not."
Jim Marchiony, an associate athletics director at KU, said that no decisions had been made about the series - the oldest continual college football rivalry west of the Mississippi River - in future years. Athletics officials will need to see how the Arrowhead games play out for the teams, the fans, the athletic departments and other interested players.
Koetting, the co-owner of Hoss's Market, offers what she considers a better alternative.
"If they want to move Mississippi State or even Kansas State, more power to you," said Koetting, who serves on the chamber's board of directors and whose business often contracts for catering services with MU athletics. "It's a great idea. But you don't want to lose a rivalry."
Copyright 2018 The Lawrence Journal-World. All rights reserved. This material may not be published, broadcast, rewritten or redistributed. We strive to uphold our values for every story published.