Photo Gallery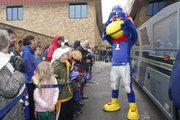 Jayhawks head to Miami
Bragging rights and friendly bets are on across the state as the Jayhawks prepare to take on Virginia Tech in the Orange Bowl on Thursday.
Folks aren't betting oranges. Nope, the wagers involve steaks, crimson-and-blue hats and sunflower seeds.
Thursday morning, Lawrence Mayor Sue Hack challenged Blacksburg, Va., Mayor Ron Rordam and the town council to wear KU hats to their Jan. 8 meeting if the Jayhawks win. The Lawrence City Commission would don Hokie hats if KU loses.
"I told our players, 'We don't look good in (Virginia Tech) colors,' so we hope you look good in Kansas red and blue," Hack said by phone to Rordam. "We can't possibly wear that hat."
Hack, a student when KU last played in the Orange Bowl, said she thought all five city commissioners had KU ties.
The leaders of the Kansas and Richmond race tracks also made a wager.
Kansas Speedway President Jeff Boerger, a KU graduate, will provide all the employees at Richmond International Raceway with Kansas steaks and sunflower seeds if VT wins. If they don't, Richmond President Doug Fritz, a VT alumnus, will send Virginia ham and peanuts to Kansas.
Kansas Gov. Kathleen Sebelius and Virginia Gov. Tim Kaine also got in on the action. If KU wins, Kaine will send Sebelius a Virginia ham. Should the Hokies win, Sebelius will send Kaine some Kansas beef products.
"The Kansas Jayhawks have proven themselves to be outstanding students and incredible athletes," Sebelius, a KU graduate, said in a statement. "Pairing that depth of talent with their nationally acclaimed coach is a winning combination."
Kaine actually has no ties to Virginia Tech and even grew up in Kansas City, Mo. However, as a graduate of the University of Missouri-Columbia, there's not much chance he'd cheer on the Jayhawks.
"I don't want to jinx them, but I think Tech's defense is going to handle KU pretty easily," he said.
Help capture the KU story in Miami
Orange Bowl bound? Do you aspire to be a writer - or photographer or videographer?
We're planning an interactive map showcasing the journey to Florida, as well as activities in Miami, along with blogs by you, the fans. You can help by joining the team documenting Jayhawk fans in and on their way to Miami.
If you'd like to send photos or anecdotes from your trip, e-mail them to roadtrip@ljworld.com and we'll add them to the project. If you'd like to share a video, post it to YouTube and send the link to roadtrip@ljworld.com.
You can also blog about your trip to the Orange Bowl at LJWorld.com/weblogs/. You'll need to be a registered LJWorld.com user. If you don't have a user account, go to www2.ljworld.com/accounts/register/
Once you've created your user account, you can go to www2.ljworld.com/weblogs/create/ where you can post photos and a narrative of your trip. If you'd like to include a video in a blog post, you can post your video to YouTube and insert it into your LJWorld.com blog.
Starting this weekend, content will begin to go live in a special section on LJWorld.com. If you have any questions about this project, e-mail KU reporter Jonathan Kealing at roadtrip@ljworld.com.
Copyright 2018 The Lawrence Journal-World. All rights reserved. This material may not be published, broadcast, rewritten or redistributed. We strive to uphold our values for every story published.