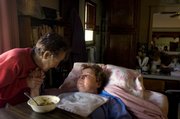 Photo Gallery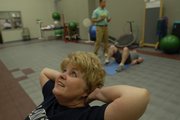 Susan Mozykowski
Offering hope
Susan Mozykowski talks about living with brain cancer. Launch audio slideshow »
Editor's note: Susan Mozykowski and her determination to live life with cancer was the focus of a story in the July 8 edition of the Journal-World. Staff writer Karrey Britt and photographer Nick Krug have documented Susan's journey.
While many of us are preparing to celebrate Christmas, a Lawrence family is celebrating something else.
The life of 65-year-old Susan Mozykowski who continues to inspire friends, family and acquaintances from a hospital bed in her home.
"I marvel at her good attitude," said Virginia Conard, a close friend of Susan's. "She was a mover and shaker. She's the one who started Sunshine Acres (preschool) and she has a great love for kids. She loved to sing, and she and I did many programs together and now she can't do any of that. But I don't hear her griping. I don't hear her complaining. She just wants to look at your face and your eyes and enjoy the moment."
Susan was diagnosed with glioblastoma multiforme - an aggressive brain tumor - in July 2006. Her doctor didn't expect her to live to see 2007. But she did.
Not only has she outlived the prognosis, but she has used her experiences in living with cancer to inspire others. During the past year, she has presented motivational programs to church and social groups.
"According to statistics, I am not even supposed to be alive," she said during a program last summer. "In fact, in January of this year, I wasn't even supposed to be here. But instead of going to heaven, I went skiing."
She added, "When I am gone, my grandchildren will be able to know that their grandma still enjoyed life with Jesus."
Full of life
Until about two weeks ago, she lived life to the fullest during her battle with cancer. She enjoyed traveling. She went skydiving in a wind tunnel, swimming, creating soda concoctions at self-serve fountains, buying her grandson a lizard and talking about her "adventures with Jesus while having brain cancer."
She survived two brain surgeries in Kansas City and courses of treatment at M.D. Anderson Cancer Center in Houston and Lawrence Memorial Hospital. She endured side effects such as hair loss, weight gain, gastrointestinal problems and short-term memory loss.
In November, she received devastating news from her doctor at M.D. Anderson: The brain tumor was growing. He recommended she call hospice. Shortly before the news, she lost her ability to sing and play guitar.
"That was one of her bigger losses because that has been something all through her life," said her husband, Richard. "We tell her that she can still sing in her heart and she takes some comfort in that."
Despite her worsening physical condition, she remained active until Dec. 12, when she didn't feel up to attending a Christmas pageant at the preschool she founded. The following weekend, Richard said doctors believe Susan suffered a small stroke that left her extremely weak. Her speech is now slurred. Until then, Richard was able to guide and support her as she "shuffled" around the house.
On Wednesday, she became bedridden.
"Her spirit is still good even though she's really had a lot of difficulties," he said.
Strong marriage
Richard's role has changed as the cancer has grown. He went from taking care of the bills and helping her remember people and appointments to helping her to the bathroom - something that was difficult for a modest Susan to accept. After a recent trip to the bathroom, Richard said Susan leaned on the sink and looked into the mirror and said to him: "You didn't bargain on this. This is too bad and I am sorry that you have to go through all of this."
His reply, "When we got married, they said, 'for better or worse,' and I am still waiting for worse. We are still in the better."
The two renewed their vows Nov. 20, which was their 20th wedding anniversary. Susan said it was one of the most beautiful days of her life. Nicholas Willems, the same Lawrence pastor who married them, officiated.
Susan also cherishes a recent visit from her only child, Joey Kean, 36, who was deployed in June to serve in Iraq. He was home for two weeks during Thanksgiving.
"He just dropped in my arms and we hugged and hugged and hugged," she said.
They spent most of their time on the couch talking, but did venture to Great Wolf Lodge in Kansas City, where Susan played arcade games with Joey and his children.
For Joey, it was difficult to leave his mother on Dec. 2, knowing the next time he sees her could be at her funeral - something Susan already has planned.
"Susan has always been very straightforward about dealing with any situation that came up," Richard said. "She has always been willing to tackle it rather than avoid it and has made things much easier for me - just her whole attitude. Her ability to find humor and respond with love and caring."
In June, Susan spoke matter-of-factly about facing death.
"I don't fear being in heaven at all - just no fear at all," she said. "In fact if anything, it is something to look forward to."
Copyright 2018 The Lawrence Journal-World. All rights reserved. This material may not be published, broadcast, rewritten or redistributed. We strive to uphold our values for every story published.