Photo Gallery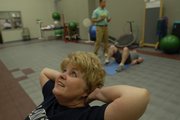 Susan Mozykowski
Offering hope
Susan Mozykowski talks about living with brain cancer. Launch audio slideshow »
She begins strumming her guitar and her angelic voice fills the room.
As Susan Mozykowski sings, faces light up and smiles form among a small Bible study group at Brandon Woods Retirement Community. She sings "I'm Bound For That Kingdom," a piece she wrote while in her 30s that she continues to learn from today.
Dressed in a black-and-white outfit, she's wide-eyed, smiling and full of vigor. Like she has done many times, she shares her story of living with glioblastoma multiforme - an aggressive brain tumor - for the past year.
"According to statistics, I am not even supposed to be alive. In fact, in January of this year, I wasn't even supposed to be here. But instead of going to heaven, I went skiing," she says with fervor. "I just turned 65 in February and I went skiing and just before that, I went indoor skydiving in a wind tunnel with 150 mph winds."
She is giving a motivational program along with her friend Virginia Conard, whom she has known since 1970. The duo usually perform a 40-minute program about Fanny Crosby, who was blinded by an incompetent doctor when she was just 6 weeks old but grew up to be a prolific songwriter. Conard portrays Crosby while Susan sings 15 of the nearly 9,000 hymns that Crosby wrote.
But on this day, they share stories about how they met, what they mean to each other and how faith plays a big role in their daily lives.
"Since I've had this cancer, God has given me blessings every day and I call her and share them with her," Susan said. "There's a wonderful list. And she is always there."
Conard's husband, John, recently was diagnosed with cancer and they have found inspiration from a simple statement Susan made: "I'm not dying of cancer. I'm living with cancer."
Another journey
Susan's deadly disease became part of what she calls "God's plan" on the evening of July 2, 2006, when she felt a painless yet bothersome pinprick on the right side of her head.
"It was like a little wire with a charge," she said.
The next day, she had a brain scan that showed evidence of swelling. Two days later, an MRI revealed the tumor.
"It was real clear," said Susan's husband of 19 years, Richard Mozykowski. "It was just like a white glove inside of her head with fingers extending."
Two days later, Susan had the tumor removed at Providence Medical Center in Kansas City, Kan. She was given the OK by doctors to take a family trip to Colorado two weeks later. There seemed to be no difference in her personality or abilities. She went hiking and ice skating with her grandchildren, displaying the same sense of adventure she's had her entire life.
But on the trip back to Lawrence, Richard began to observe differences in Susan.
"I noticed that she started to lose concentration and was almost unsteady in walking. There was a little bit of dragging her left leg," he said. "She wasn't comprehending. I knew something was terribly wrong."
Another MRI found she had massive brain swelling that was life-threatening. On Aug. 3, she had a second surgery to remove the tissue that had swelled. As soon as she was strong enough, she went to M.D. Anderson Cancer Center in Houston where she received radiation and chemotherapy treatments.
Since then, she has taken monthly trips to Houston, where doctors have tried various treatments. She also became part of an experimental program where she took a cocktail of drugs that helped stop the blood supply to the cancer, but it affected her liver and pancreas. She was removed from the program.
Her last visit to M.D. Anderson was in May, when she was told the cancer wasn't growing. She was given her first intravenous chemotherapy treatment there and now is undergoing a course of them at Lawrence Memorial Hospital. Her next evaluation in Houston likely will be next month.
Struggles of cancer
Losing her blond locks has been nothing compared with dealing with the side effects of taking drugs, including steroids: weakness, gastrointestinal problems, nausea and weight gain.
Susan described going from a size 6 to size 14 as a blow to her self-esteem. Unable to fit into most of her clothes after gaining about 55 pounds, Susan said she wanted to lie on her bed and sob.
"I felt like a circus lady - all blown up with makeup," she said.
But Richard was there to lift her spirits. "My husband told me not to look in the mirror but in his eyes. Isn't that sweet?"
Dr. Philip Gutin, chairman of the department of neurosurgery at Memorial Sloan-Kettering Cancer Center in New York City, understands the pain. He said steroids are the only treatment for brain swelling.
"Unfortunately, they are a necessary evil," he said.
Gutin said doctors have been looking for a replacement for years. Steroids can cause not only weight gain and diabetes, but disfigurement, an inability to fight infections and stomach ulcers.
Susan's cancer also has caused limited peripheral vision and balance problems.
But she continues to swim and use exercise equipment. She thinks her fitness level before and during the cancer has helped slow its progression.
The cancer also has affected her mentally. She has trouble with short-term memory and the ability to comprehend. She can't watch movies because she is easily confused. Therefore, she leans on her husband - whom she describes as her honey bunch and champion warrior - for daily guidance.
"We never dreamed it would be this hard," she said. "I've caught him at 4 o'clock in the morning at the breakfast table putting all of these pills all over into these little containers and then he sees that I take them and when."
The cancer has caused her to lose her sense of time. Sometimes, she wakes up in the middle of the night and asks Richard if he wants breakfast.
"I got to the point where I didn't know what time it was, what day it was, whether it was morning or night, and he would have to tell me every 15 minutes," she said. "How would you like to have someone ask you over and over and have no sense of where she is and what time it is?"
Richard also takes her shopping, helps her dress, and tracks her appointments, medications and the people she meets. And it can't be easy keeping up with Susan, who still enjoys attending functions, taking trips and living large.
But you won't hear him complain, and his compassion for Susan brings tears of joy to their friend Virginia Conard.
"I have never seen someone like Richard - never," she said. "I have been very closely associated with both of them and he is so patient. He helps keep her on track mentally but never puts her down or embarrasses her. I have never seen anyone perform from the heart the way he does."
But Richard is quick to point out that his life has been enriched by Susan's interests and personality.
"Susan has always been enthusiastic," he said. "She is a natural when it comes to conversations. She has the gift of hospitality."
Conard agrees. "There's no guile in Susan. She is open as a book. When we want to cry, we do it alone. If she wants to cry, is sad or happy, she shares it and doesn't make you feel uncomfortable."
An example of such openness occurred during the recent death of their 15-year-old dog named Cozy, whom they purchased as a puppy.
They decided to take the short-haired sheltie mix to the Lawrence Humane Society where he would be cremated after peacefully dying at home. After a shelter employee handed Cozy's collar and carrier to Richard, Susan said she didn't get to say goodbye.
So a shelter employee wrapped Cozy in a blanket and brought him back out for Susan.
"He's just so precious. He's the first thing I see every day when I pray and meditate," Susan said as she wept aloud while pulling back the blanket. "I've learned patience and forgiveness from Cozy. He's one of the most precious things I've had in my life."
After bidding farewell, she shared stories about him with Richard and the other shelter employees.
Of Cozy's death, Susan said "that's how I want to die - peacefully."
Renewed bonding
Susan said the cancer has given her blessings such as spending more time with loved ones including her only son, Joey Kean, 36, who was adopted when he was 8 days old. Susan can remember the day as if it were yesterday.
"He was delivered in a basket to our home. : Almost like the pharaoh's daughter got Moses in the basket in the river," she said.
Like Susan, he has deep blue eyes and a sense of adventure.
When his mother was diagnosed with brain cancer, Kean was serving in Iraq with his Kansas National Guard unit. He was given a two-week emergency leave to return home for her first surgery.
"You never think about anything ever happening to your parents," he said.
Kean said he realized the severity of the cancer during an elevator ride when Susan wanted to talk about living wills.
"I had the realization that, one, there was something wrong; and two, that it could be bad. Thank God, here we are a year later and she is moving right along," he said.
He recently was deployed to serve a one-year mission in Iraq as part of the 35th Military Police Company. But before leaving, he held his mother for a special picture. The two are fond of the book "Love You Forever," about a boy who is held and taken care of by his parents. As they get older, he ends up holding and taking care of them.
Now, Susan has a picture of Kean holding her in the same spot she held him on the day he arrived.
"I've got them both as permanent memories of a very special time," she said. "Both were a thrill that I will never forget."
During the past year, Kean, who has four children, said he gained a new appreciation for what his mother has accomplished at Sunshine Acres Montessori Preschool and Day Care Center, which she co-founded with Gene Kean, her former husband and friend.
A parent night was an eye-opener.
"It was a round robin where you met the different teachers and there was a section where mom taught about the program," he said. "I was amazed. I finally realized what a great thing she has done for so many kids.
"When you are around something long enough, sometimes you don't appreciate it. I have a different understanding of it now."
What Susan has done is mix some of the Montessori method with her own background of music and faith. Montessori is based on the idea that children possess all the qualities they need to develop themselves.
Linda Edman, a member of the school's board of directors, said Susan has a knack of flexibility and recognizing the strong aspects of the Montessori method.
"The biggest aspect is the Christian education that she brings into her program as well, and what just comes from her own heart and her own background."
On a mission
God is Susan's first love. She devotes time every morning to praying and meditating with him.
"I just love that nice feeling of getting up in the morning and having time with the Lord," she said.
Shortly after being diagnosed with cancer, Helene Ashcroft - the friend who led her to Christianity in 1966 - called. Susan said she asked her to read and think about Psalms 27:6:
And now my head will be lifted up above my enemies around me, And I will offer in His tent sacrifices with shouts of joy; I will sing, yes, I will sing praises to the Lord.
"I sat and thought about that for the longest time," Susan said. "And I kept praying and asked the Lord, 'What are you saying to me? What am I supposed to do with this verse? Please show me. Please show me what this means.'
"All of sudden I felt this new song coming through me like water comes through a hose and I began to sing it and I've been singing it now for eight months or so to hundreds in a four- or five-state area."
Susan said the Lord gave her the 58-second song, which she hasn't named, to encourage others and to occupy her life with a sort of ministry.
Now, she sings it to anyone who will listen - clerks, waitresses, hospital patients and those at Brandon Woods.
Susan's neighbor Bonnie Rose has heard the song many times while taking her on errands and to appointments.
"Everybody just loves her once they meet her and she sings," Rose said. "Usually, it almost brings tears to your eyes.
"She just makes you smile. She has got such a great personality. She's just a loving person and, of course, she has great faith."
Susan plans to continue sharing that faith with others. She wants to write children's and adult books. She already has a title for one: "My Adventures With Jesus While Having Brain Cancer."
"My greatest joy is bringing comfort and encouragement to others by sharing what God is doing in and for me," she said.
Copyright 2018 The Lawrence Journal-World. All rights reserved. This material may not be published, broadcast, rewritten or redistributed. We strive to uphold our values for every story published.