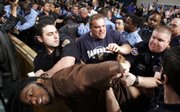 New Orleans — Police used chemical spray and stun guns Thursday on protesters who tried to force their way into a City Council meeting, the latest strife over plans to demolish some 4,500 public housing units in a redevelopment project that council members ended up unanimously supporting.
The vote to permit the federal government to tear down four public housing developments was a critical moment in a protracted fight between the U.S. Department of Housing and Urban Development and residents, activists and preservationists.
Police said 15 people were arrested on charges ranging from battery to disorderly conduct. Four people were taken to hospitals - two of them women who had been stunned with Tasers - and five others were injured and treated on the scene, police said. All four in the hospital were stable, police said.
Protesters said they pushed against the iron gates that kept them out of the building because the Housing Authority of New Orleans had disproportionately allowed supporters of the demolition to pack the chambers. Dozens tried to force their way in.
At the peak of the confusion, some 70 protesters were facing about a dozen mounted police and 40 more law enforcement officers on foot.
One woman was sprayed by police and dragged from the gates; emergency workers took her away on a stretcher. Another woman said she was stunned by officers, and still had what appeared to be a Taser wire hanging from her shirt.
"I was just standing, trying to get into my City Council meeting," said the dazed woman, Kim Ellis, who was taken away in an ambulance.
"Is this what democracy looks like?" Bill Quigley, a Loyola University law professor who opposes demolition, said as he held a strand of Taser wire he said had been shot into another of the protesters.
Officers "did not use excessive force in any way," police chief Warren Riley said.
Quigley said he believed the crackdown violated public meetings laws.
After roughly 30 minutes of on-again-off-again struggle to get into the meeting, protesters fell back, continuously chanting with bullhorns. An afternoon storm thinned the demonstrators, some of whom had been waiting since 7 a.m. to enter, and the crowd disappeared altogether shortly after the afternoon vote.
The meeting itself was mostly peaceful, although an early fight in the chambers between protesters and police caused a brief interruption.
Some public housing residents repeated during the daylong debate that they welcome the plan to replace the decades-old structures with mixed-income, mixed-use development. Other residents and their advocates said they fear the plan will result in the loss of badly needed housing for the city's low-income black residents.
The vote crossed racial lines, with the three black council members joining four whites.
Most of the units HUD plans to demolish are vacant, and many suffered heavy damage in Hurricane Katrina, but those who oppose their demolition say they should be improved instead.
Critics of the plan say it will drive poor people from neighborhoods where they have lived for generations, but HUD denies that and says the plan will create an equal amount of affordable housing as existed before Katrina hit.
Copyright 2018 The Associated Press. All rights reserved. This material may not be published, broadcast, rewritten or redistributed. We strive to uphold our values for every story published.