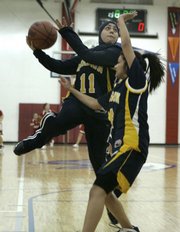 Dearborn, Mich. — Dewnya Bakri loves her faith - and the feeling of sinking a three-pointer.
For much of her life, the 20-year-old Muslim has found a way to balance practicing Islam and playing basketball, including wearing a head scarf and long pants on the hardcourt, even if it's meant taunts as she blazed trails on her middle school, high school and college teams.
Now a college senior at University of Michigan-Dearborn preparing for law school, she spends free time coaching Muslim girls and sharing what she experienced in Dearborn, home of at least 40 mosques, to help give them the confidence to follow in her footsteps.
As more covered Muslim girls take up competitive sports, Bakri and others say it's time to get beyond merely allowing the hijab - the traditional Muslim head scarf worn for modesty - and help those wearing them feel welcome.
"It's not like accommodating for one person anymore, it's a group," Bakri says.
Experts and advocates say the number of Muslim girls wearing the hijab on the court, track or field is rising because girls are growing more comfortable pursuing mainstream activities while maintaining religious traditions.
"They don't see the barriers," said Edina Lekovic, spokeswoman for the Los Angeles-based Muslim Public Affairs Council. "They take it for granted they can play in competitive sports ... and work out the clothing issues at the same time."
Even so, Bakri and current players at her former school, Fordson High, players say they've heard trash-talk that goes beyond the usual on-court chatter - calling them terrorists, telling them to go back to their own country.
Bakri said some coaches and referees have questioned whether she could play in a scarf and sweat pants, relenting only when her coach produced a letter from the Michigan High School Athletic Association allowing the uniform modification.
More recently, she said referees wouldn't let her play in one out-of-state college tournament. The coach told her later that it was because of her uniform modification.
In the U.S., the National Federation of State High School Associations' rules say state associations may allow a player to participate while wearing a head covering for religious reasons as long as it isn't dangerous to another player and unlikely to come off during play. The rule-making federation also allows pants, shorts or skirts.
School districts in Michigan must ask state high school athletic officials for permission to modify uniform requirements.
They always grant the district's requests, said Mark Shooshanian, Fordson High School's athletic director, but he'd like to see it become enshrined in the rules.
State athletic association spokesman John Johnson said the system "almost rubber stamps" requests, but requiring the case-by-case letter provides a safeguard against misunderstandings.
At Bakri's middle school, Lowrey Middle School, she was the first athlete of the year to wear the scarf and earned letters in basketball, volleyball, track and swimming.
Her 17-year-old sister, Hyatt Bakri, is a starting shooting guard at Fordson High, and wears pants and long sleeves on the court.
Teammate Fatima Kobeissi, a senior reserve guard, said she's worn the hijab since she was nine.
"Nothing in our religion says we can't go out and do other things just like everybody else. It's just while we're doing it, we have to be more modest maybe than everybody else," she said.
Copyright 2018 The Associated Press. All rights reserved. This material may not be published, broadcast, rewritten or redistributed. We strive to uphold our values for every story published.