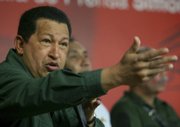 Washington — The U.S. government eagerly reached out to Venezuelan presidential candidate Hugo Chavez in 1998 and moved quickly to denounce a rumored coup plot against the man who's become one of the Bush administration's archenemies, newly declassified State Department documents obtained by McClatchy Newspapers reveal.
State Department officials initially appeared dazzled by Chavez's oversized persona and his promise for sweeping reforms, and seemed sincere in their efforts to help him, the documents show. Some of those overtures drew positive responses from Chavez, who said he wanted U.S. help in fighting corruption and drug trafficking.
But as the months passed, American unease grew, and cables from the U.S. Embassy in Caracas, the Venezuelan capital, began warning of "populism" and "the authoritarian threat which lurked behind his tough policy statements."
McClatchy obtained 53 documents totaling some 200 pages, mostly cables from the embassy, in response to a 2005 Freedom of Information Act request.
The documents - almost of all them redacted for classified or sensitive information, some so heavily that they're little more than blank pages - are a small slice of U.S. government records on Venezuela.
However, they shed new light on the behind-the-scenes deliberations over how to deal with Chavez, a firebrand former lieutenant colonel who led a failed military coup in 1992 but was elected president in a landslide on Dec. 2, 1998.
After Chavez won the election, he asked Colombian President Andres Pastrana for advice on how to establish good relations with Washington, according to a Dec. 23 cable. Pastrana's response: Be straightforward and avoid surprises.
A Jan. 20, 1999, cable setting the scene for a meeting between Chavez and President Bill Clinton a week later said that Chavez's proposals for democratic and constitutional changes could become a model for other nations.
"He has told us that Venezuela's relationship with the U.S. is of transcendental importance and that he wants to do everything he can to improve that relationship," said the embassy report, which was signed by the then-U.S. ambassador to Venezuela, longtime Latin America expert John Maisto. "We want to do the same."
Another document quotes Peter Romero, then the top State Department official for Latin America, telling a group of top U.S. business sector leaders in Caracas that if Chavez accomplished "50 percent of what he says he wants to do, that is good."
But there was some early unease.
A Feb. 9, 1999, cable recounting Chavez's inauguration speech said he "left little doubt that anyone who opposed him should be ready to fight" and warned of "flashes of populism" and "the authoritarian threat which lurked behind his tough policy statements."
"We chose to see the glass more than half full," Maisto told McClatchy when asked about the declassified cables.
But as Chavez pressed ahead in 1999 for a new constitution and became friendlier with Cuba, embassy officials grew more concerned. One cable recommended that Undersecretary of State Thomas Pickering use an upcoming meeting with Chavez to "express the importance that those changes continue within a democratic, legal, and constitutional framework."
By 2001, relations were souring, and after Chavez equated the U.S. war in Afghanistan with the Sept. 11 terror attacks on New York and Washington, then-U.S. Ambassador Donna Hrinak was recalled to Washington for consultations.
Chavez's battles with his domestic foes also were intensifying at the time.
A Nov. 7, 2001, cable called attention to a military high command statement of support for Chavez, and noted, "This town is full of coup rumors, something that was not the case of a few weeks ago."
Amid violent street protests, a military coup ousted Chavez April 11-13, 2002, only to see him return to power on April 14 following massive demonstrations. Chavez and his allies have alleged ever since that Washington was behind the coup, and several administration statements suggesting that Chavez's actions had sparked the coup only fueled the suspicions.
A State Department inspector general's investigation later found no evidence of U.S. wrongdoing.
Copyright 2018 The Lawrence Journal-World. All rights reserved. This material may not be published, broadcast, rewritten or redistributed. We strive to uphold our values for every story published.