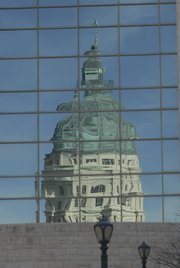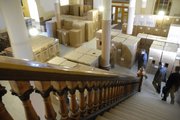 Topeka — Workers are putting the final touches on the west wing and House chamber.
But they can't paint over the fact that the Capitol project is getting bigger and more expensive.
The already-over-budget restoration job will need more money to finish.
But Statehouse Architect Barry Greis declined to say how much more until today's meeting of the Capitol Restoration Commission.
In recent years, the tab to restore, renovate and expand the Kansas Capitol has grown significantly.
In September, the price tag was pegged at $172.5 million, and the north wing of the building wasn't even figured into that amount.
When originally envisioned in 2000, cost projections were in the $90 million to $120 million range.
Even so, lawmakers from both sides of the aisle say the project should continue.
"We made a commitment to do this and to do it right. The additional expense that I expect is on the exterior, the stone renovation," Senate President Steve Morris, R-Hugoton, said.
"It doesn't make sense to do everything right on the inside and let the outside go," Morris said.
House Democratic Leader Dennis McKinney, of Greensburg, agreed that the project is needed.
"We think of this as just a renovation, but we've added a whole new office building of space," McKinney said.
In 2001, the Legislature agreed to build an additional 118,000 square feet of office space underground, Greis said. That wasn't included in the original plans.
And the Legislature added a $15 million parking garage, which wasn't part of the initial plan.
Morris also noted that inflation in construction has been much higher in recent years - approximately 8 percent - than it was when the Legislature approved the project in 2000.
McKinney said once completed in 2011, the Capitol will be much more energy-efficient and user-friendly.
Legislative leaders also have been adamant in defending Treanor Architects, the Lawrence-based firm hired to lead the project.
"They're restoring the grandeur of the building," House Speaker Melvin Neufeld said last spring.
The project has been massive - a top-to-bottom repair, renovation and restoration of a building that was originally constructed between 1866 to 1903.
In addition, the Legislature decided the building would remain open for business during the project, which has increased the expense and time to complete it.
Facts and figures
$90M to $120MOriginal cost estimate for Statehouse renovation in 2000
118,000Square feet of office space added to the project in 2001
$15MCost of a parking garage added onto the project
8%Inflation rate in construction since 2000, according to Senate President Steve Morris
$172.5MEstimated cost for Statehouse renovation in September 2007
2011Expected completion date of Statehouse renovation
$3.2MOriginal cost to build the Statehouse in 1866-1903
Copyright 2018 The Lawrence Journal-World. All rights reserved. This material may not be published, broadcast, rewritten or redistributed. We strive to uphold our values for every story published.