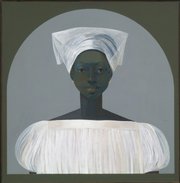 Event
"Haitian Art from the Hughes Collection"
Where: Spencer Museum of Art, 1301 Miss., KU campus, Lawrence
Age limit: All ages
Cost: Free
-->
-->
Mary Lou Hughes didn't have a museum exhibit in mind when she started buying art from her Haitian friends in 1972.
She just couldn't get the images out of her head.
"I could look at a painting and, honestly, it was like a surge of adrenaline if I found it something that I felt like I wanted," says Hughes, a 1947 Kansas University graduate. "And I usually would sleep on that, and I would go back and buy it.
"It was an emotional thing, I guess."
From 1972 to 1976, Mary Lou lived in the Caribbean nation with her diplomat husband, Harry, who spent his days promoting America's reputation. When she wasn't helping him - which she often did - Mary Lou frequented the Centre d'Art, a sanctuary for local artists in the capital city of Port-au-Prince.
The religious scenes, landscapes, portraits and snapshots of everyday life rendered in cheerful colors with expert and self-taught hands alike captured Mary Lou's imagination. She befriended the artists and began purchasing their paintings and sculptures.
And she continued purchasing until she had amassed a collection of nearly 100 pieces.
In the poorest nation in the Western Hemisphere, Mary Lou Hughes had stumbled upon a creative gold mine.
New associations
About 40 of the works are on view through Sept. 16 at the Spencer Museum of Art in an exhibition titled "Haitian Art from the Hughes Collection."
It's an eclectic show; Mary Lou deliberately sought out what she deemed the best of various styles when collecting.
"That was her day job," jokes Harry, also a KU graduate.
The variety is part of what attracted Amanda Martin Hamon to the Hughes Collection, which she mined for a paper on Latin-American art as a graduate student at KU.
"Not to say that her collection is a survey of Haitian art, but I think you get a pretty clear idea of the kinds of things that Haitian artists were creating," says Hamon, the Spencer's public outreach and special events coordinator, who co-curated the exhibit with Sean Barker, the Loo Family Intern in Education.
"Because it's such an eclectic collection, that's part of the reason why we decided to focus on the artists."
They also wanted to temper negative associations with the country.
"So often when people think of Haiti, they think of a lot of things that aren't so wonderful. So you think about poverty and a lot of desperation, or stereotypes of Haiti," Hamon says. "We really wanted to highlight the artists."
"In the midst of all these kinds of more negative things that people think about Haiti, there are really some wonderful things happening in Haiti, and some very talented, creative people that deserve that credit without all the other associations."
Blooming movement
Harry and Mary Lou Hughes lived in Haiti during the second flowering of "naive art," first championed in the 1940s at the Centre d'Art. That hub was founded by American Dewitt Peters, who originally was sent to the country to teach English as an alternative to military service but ended up encouraging the innate creative abilities of bookkeepers, truck drivers and houseboys who had no artistic training.
These amateurs became important names in Haitian art: Hector Hyppolite, Philome Obin, Rigaud Benoit and Wilson Bigaud. Many of them are represented in the Hughes' collection and the Spencer exhibition.
And many were confidants of Mary Lou Hughes.
Bernard Sejourne, for instance, used to call her in the mornings and invite her to his studio to see what he'd painted overnight.
"I didn't have any art training, and he just wanted me to say how I felt about it," Mary Lou says.
It was during one such visit that Mary Lou spotted "Asefi," a portrait of a beautiful Haitian woman born at the tail end of a long line of daughters. The title means "enough girls" and signals that its subject is destined for a convent or training as a voodoo priestess.
'In my mind'
Harry and Mary Lou Hughes moved back to Lawrence in 1991 - they'd met in a KU botany class and married the year they graduated - and first showed their Haitian art collection at the Spencer Museum around 1996.
In addition to Haiti, the couple had been stationed in Chile, Uruguay, Dahomey (now the Republic of Benin), Chad and South Africa. They enjoyed all the locales - although South Africa was psychologically difficult during apartheid - but no place captured Mary Lou's imagination like Haiti, where the people "were wonderful to live with and would do anything for you."
She hopes visitors to the Spencer exhibition absorb a feeling of the country.
"I think it's a happier feeling than you get if you just hear the news, which is pretty bad," says Mary Lou, who didn't stay in touch with her friends after leaving the island. "A lot of them have died. But they're in my mind."
Copyright 2018 The Lawrence Journal-World. All rights reserved. This material may not be published, broadcast, rewritten or redistributed. We strive to uphold our values for every story published.