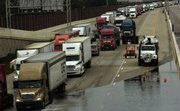 More rain pushed flood waters higher in northern Illinois on Friday, threatening further havoc in a region where days of torrential thunderstorms have swamped thousands of homes and left hundreds of thousands of people without electricity.
In this Chicago suburb, about 300 people piled sandbags against 4-foot-high concrete barriers, aided by backhoes and bulldozers, but they didn't know whether it would be enough to hold back the rising Des Plaines River.
"It's just getting worse," Fire Chief Don Gould said. "All these people will be flooded out if we don't move quick."
A storm carrying heavy rain and high winds Thursday knocked down thousands of trees and tree limbs around metropolitan Chicago and left more than half a million utility customers without power. About 173,000 remained without electricity Friday night, said ComEd spokeswoman Anne Prammaggiore.
In Dyer, Ind., southeast of Chicago, authorities began evacuating St. Margaret Mercy Hospital as water from a creek behind the building began seeping in. About 70 patients were being moved to other hospitals, spokeswoman Maria Ramos said.
Authorities cut power to the hospital as a precaution, and police and firefighters went door to door in Dyer telling people to leave.
Parts of Ohio, Wisconsin and Minnesota, meanwhile, continued cleaning up after earlier flooding. Nearly a week of powerful storms, heavy rain and devastating flooding across the Upper Midwest has damaged thousands of homes and been blamed for at least 17 deaths.
Illinois Gov. Rod Blagojevich declared Cook, Lake, Kane and McHenry counties state disaster areas, a move that will help deliver state aid to those areas.
In lower Michigan, a line of heavy storms swept through for the second day in a row, spawning tornadoes that destroyed or damaged several homes. No injuries were reported Friday, although a motorcyclist was killed Thursday when his bike hit a fallen tree in the road, authorities said.
Federal Emergency Management Agency Administrator R. David Paulison surveyed damage Friday in Rushford, Minn., which was especially hard hit by flooding this week. Mayor Les Ladewig said about half of Rushford's 760 homes were damaged, including 248 that were destroyed and 91 with serious damage.
In Oklahoma City, the state Medical Examiner's office officially attributed the death of a high school long-distance runner to drowning Friday, bringing to seven the number of people who have drowned in flooded areas of the state since record rainfall Sunday.
The body of 17-year-old Phillip Jones was recovered from rain-swollen Lake Overholser on Thursday, one day after he was swept away while trying to cross a flooded trail.
"It's a devastating situation, not just for the victims and their families but for the state of Oklahoma," said Michelann Ooten, the agency's spokeswoman.
Ooten said Jones' death several days after the remnants of Tropical Storm Erin dumped up to 11 inches of rain on the region reflects the severity of flooding that inundated homes, businesses and roadways.
"It's truly a tragedy. It's a sadness for all of us," Ooten said.
Copyright 2018 The Associated Press. All rights reserved. This material may not be published, broadcast, rewritten or redistributed. We strive to uphold our values for every story published.