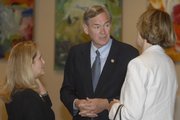 U.S. Rep. Dennis Moore wants Americans to be able to carry around their personal medical records in a microchip-embedded credit card for easy, controllable access.
The way he figures it, this kind of plastic actually could save big money.
"If we were to implement something like this nationwide, we could save : more than $160 billion a year," said Moore, D-Kan., who was in Lawrence on Wednesday for a Lawrence Chamber of Commerce luncheon. "That's a lot of money."
But that's only the beginning of Moore's push to pass the Independent Health Record Trust Act, a bill that would establish a "modern, market-driven approach" to building a National Health Information Network - a collection of independent trusts to handle patients' health records on a voluntary basis.
Patients would have the option of submitting their medical records to be managed by nonprofit trusts. The trusts would be charged with ensuring the security, confidentiality and privacy of each consumer's sensitive medical information.
No longer would the keeping of medical records be limited to specific locations, such as the offices of a person's family physician, ophthalmologist, oncologist or other specialists. The trust would have the information.
And patients could limit their providers' access to certain information. A person's dermatologist, for example, might be denied access to a patient's mental health history.
"The patient has total control over the medical record - as far as what records go in and, more importantly, total control over what goes out to other doctors," said Moore, noting that he'd discussed the issue at length with his wife, a registered nurse. "We could cut down on medical errors, have better medical records and reliable records."
Using computer technology, Moore said, would allow hospitals and clinics to "get rid of yards and yards of paper files right now, a lot of which are difficult and expensive to maintain and are inaccurate."
Moore is sponsoring the bill along with U.S. Rep. Paul Ryan, R-Wis. Another 48 representatives have signed on as co-sponsors, including U.S. Reps. Jerry Moran and Todd Tiahrt, R-Kan.; and former Kansas City, Mo., Mayor Emanuel Cleaver, a Missouri Democrat.
Copyright 2018 The Lawrence Journal-World. All rights reserved. This material may not be published, broadcast, rewritten or redistributed. We strive to uphold our values for every story published.