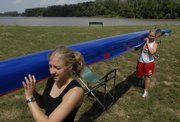 Recent tragedies on the Kansas River show the need for more education about water safety, riverkeeper Laura Calwell said Monday.
"You do need to respect the power of water," she said.
On Aug. 5, Joshua Bryant, 25, and Richard Heyroth, 30, both of Topeka, died in a canoeing accident near Topeka, while 9-year-old Michael Zapletal has been missing since Wednesday after last being seen on a sandbar near Maple Hill.
The usually shallow and slow-moving Kansas River flows 170 miles through northeast Kansas.
But recently, the Kaw has been deeper and swifter from rains and releases from upstream dams, Calwell said.
"There is definitely the need for more public education and river safety," she said.
As the river gains more popularity among canoeists, Calwell said Friends of the Kaw and the state will have to step up with more education.
She said Friends of the Kaw will make additions to its Web site on river safety.
She also said she hoped to apply for grant funds and get signage at public access points to the river that show the river trail and the various obstacles in the water.
"We have to address that. These incidents point that out," she said.
Bryant and Heyroth and two other men were in a canoe and on a raft that capsized over a low-water weir.
Authorities said the survivors, who were pulled out of the strong current by fishermen, said they were unaware of the concrete structure, a small dam.
On Wednesday, Michael disappeared while friends said they were wading in fast-moving water.
Copyright 2018 The Lawrence Journal-World. All rights reserved. This material may not be published, broadcast, rewritten or redistributed. We strive to uphold our values for every story published.