Photo Gallery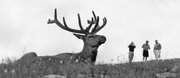 Dan Coburn photography
Rocky Mountain National Park opens its rugged arms to more than 3.5 million visitors each year.
But not without consequence, as Topeka artist Daniel Coburn discovered during a two-week residency there in mid-July - the park's busiest season.
"This size of crowd has a major impact on the park's landscape and resources," he says. "The west side of the park has also been impacted heavily by the mountain pine beetle, which is destroying a good part of the forests in the Rockies."
Coburn explored the park through his camera lens during his visit, and he returned with a photographic essay composed of more than 50 images - landscapes, portraits and documentations of people interacting with nature.
"It was my goal to understand why so many people return to our national parks every year," he says. "Do they respect these places while they are visiting? Can we continue to preserve these natural wonders?"
A panel of professional artists selected Coburn as one of six artists from 74 applicants for the artist-in-residence program at the park. He is president of the Lawrence Photo Alliance and will be part of a group exhibition called "Thresholds" opening Sept. 7 at 6 Gallery, 716 1/2 Mass.
Copyright 2018 The Lawrence Journal-World. All rights reserved. This material may not be published, broadcast, rewritten or redistributed. We strive to uphold our values for every story published.