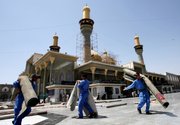 U.S. Deaths
As of Friday, at least 3,684 members of the U.S. military have died since the beginning of the Iraq war in March 2003, according to an Associated Press count.
Baghdad — A car bomb killed at least eight people in a northern Kurdish area Friday, but Baghdad remained largely calm with a driving ban still in effect and thousands of Shiite pilgrims headed home.
U.S. military officials praised the performance of Iraqi security forces during the pilgrimage Thursday, which saw hundreds of thousands of Shiites march to a northern Baghdad shrine, undisturbed by any major violence.
The driving ban and curfew imposed on Baghdad for three days was to lift at dawn today.
"They have done an absolutely amazing job," said Col. John Castles, commander of the 2nd Brigade Combat Team, 82 Airborne Division, speaking of Iraqi forces who protected the march.
"We have been in solely a support role, in the background only. And this is something that the Iraqis planned themselves, coordinated and then executed, over a span of three or four days," Castles said.
Castles, whose soldiers are responsible for Sadr City, the Shiite slum where many pilgrims began their walk, also said radical Shiite cleric Muqtada al-Sadr is believed to have returned to Iran.
A spokesman at al-Sadr's headquarters in the holy city of Najaf called the U.S. assertion a "baseless rumor."
"The Americans are just trying to find out where al-Sadr is," the spokesman said on condition of anonymity because he was not authorized to speak about al-Sadr's movements.
Al-Sadr, the head of a major Shiite militia called the Mahdi Army, had taken refuge in Iran earlier this year as the United States began sending more troops into Iraq. He appeared again in public in Iraq on May 25, but was last heard from inside the country June 28.
Prime Minister Nouri al-Maliki, who traveled to Turkey and Iran this week, stayed an extra day in Tehran on Friday for laser surgery to correct a distance vision problem in his right eye, according to a government official traveling with the Iraqi leader. He said the procedure was successful but refused to allow use of his name because he was not authorized to release the information.
Separately, two U.S. soldiers were wounded when a U.S. helicopter went down south of the capital, the military said - the second such downing in two weeks. Their injuries were not life-threatening.
The car bomb, hidden in a parked car, hit a market in a Kurdish area of Kirkuk, a disputed oil-rich city 180 miles north of Baghdad.
At least eight people were killed and 45 were wounded, said police Brig. Gen. Sarhad Qader.
Copyright 2018 The Associated Press. All rights reserved. This material may not be published, broadcast, rewritten or redistributed. We strive to uphold our values for every story published.