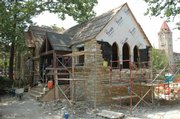 About Danforth Chapel
Kansas University's Danforth Chapel is nondenominational and provides a quiet place for individual meditation and prayer. It also is used for weddings, christenings and appropriate student activities.It is open from 7:30 a.m. to 10 p.m. Monday through Friday. Registered student and campus organizations may reserve the chapel for up to one hour a day and up to three times a week. Weekends are available by appointment only, and applicable fees apply. The chapel is not available on holidays.Charges for the use of Danforth Chapel are $35 for students and $75 for others. There is no charge for memorial services and christenings unless they take place on a weekend.To reserve the chapel, call the Student Involvement and Leadership Center at 864-4861.
A Lawrence couple didn't have to look far to find the perfect place to begin their life together.
In December, Kansas University graduates Jennifer Cornelius and Brian Herder will marry in Danforth Chapel, an intimate place that sits atop Mount Oread near Fraser Hall along Jayhawk Boulevard.
"Since we are having a small wedding, we thought that would be the perfect place to do it," Cornelius said.
She said they liked the idea of getting married on KU's campus, especially because her fiance is a "KU sports nut," and the affordable cost.
Cornelius' only concern was where to get ready for her big day. The chapel - which was dedicated in 1946 - has only one bathroom, so she was considering getting dressed in a hotel room.
That was until she learned about the chapel's $900,000 face-lift that is under way, funded through private donations. A 600-square-foot addition on the chapel's southeast side will contain a bridal dressing room complete with three windows, granite countertop and two big mirrors. There will be two new bathrooms and an area for the bride and her attendants to wait until it's time for their entrance. Work on the addition began in the spring.
Cornelius said she was excited about the project.
"I was trying to figure out the logistics of going into the building, and now they will have that room. And then they are upgrading the bathrooms," she said.
The entire chapel is undergoing an upgrade. The renovation began July 7 when the chapel was closed to the public.
The renovation includes replacing the carpet with tile, lowering the stage area, adding new lights and an air conditioning and heating system, restoring the stained-glass windows and new paint.
"It will be a thing of beauty," said Project Superintendent Ron Whitaker, with Gene Fritzel Construction Co.
Not only is work being done on the inside, but outside as well. A new porch is being added while the old one is renovated.
Warren Corman, university architect, said the parking lot would be rebuilt and new landscaping would be incorporated.
"They are going to re-landscape and spend quite a bit of money out there," Corman said. "When they get all through, it will be really nice. They want to make it look like it will go another 50 or 60 years."
The chapel is scheduled to reopen Sept. 1 when the work is done. The first wedding will be Sept. 8.
Among those anxious to see the renovation work is Linda Bliss Stewart and her husband, John T. Stewart III, who donated money for the project.
"It's just such a wonderful building, and my husband's father was one of the original investors in the building," she said. "It gives us a little pride in being part of it."
Corman and Burke Beeler, senior director of donor relations, said it has been the generosity of people like the Stewarts who have made the project possible.
"We've had people who have contributed to this that were married there, people who used to just walk by the chapel every day on campus and others who would go in for reflective time," Beeler said. "They've all had different reasons why Danforth Chapel was important to them, and they all have an interest in making sure that it continues to be one of the campus landmarks for a long, long time at KU."
Beeler said the KU Endowment Association had raised $820,000 as of June and believed they wouldn't have problems raising the amount needed.
"It's just been really well-received, and we are very pleased with everyone's generosity in making this a reality."
Copyright 2018 The Lawrence Journal-World. All rights reserved. This material may not be published, broadcast, rewritten or redistributed. We strive to uphold our values for every story published.