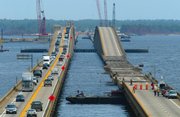 Washington — The Minneapolis bridge disaster that suddenly is the symbol of the nation's crumbling infrastructure could tip the scales in favor of billions of dollars in higher gasoline taxes for repairs coast to coast.
There are 500 bridges across the country similar to the Minneapolis span, and "these are potential deathtraps," says Rep. Don Young, R-Alaska, former chairman of the House Transportation Committee.
"We have to, as a Congress, grasp this problem. And yes, I would even suggest, fund this problem with a tax," he says. "May the sky not fall on me."
One-quarter of the nation's bridges, including the one in Minneapolis, have been classified as structurally deficient or functionally obsolete. One-third of major roads are judged by federal transportation officials to be in poor or mediocre condition.
Beyond the human tragedy of the Minnesota bridge collapse lie some daunting numbers: The cost of the backlog of needed repairs to roads and bridges is now $461 billion. Road conditions are a factor in one-third of the 40,000 traffic fatalities every year. Traffic congestion costs drivers $63 billion a year in wasted time and fuel costs.
There's no evidence to suggest that the Mississippi River disaster was a direct result of federal underspending. But there is wide agreement that the bridge is symptomatic of a national problem that Congress and the White House are going to have to address.
"It's a tragic wakeup call," said Matt Jeanneret, spokesman for the American Road and Transportation Builders Association. "This is gut check time for members of Congress for what they are going to do at the federal level."
Copyright 2017 The Associated Press. All rights reserved. This material may not be published, broadcast, rewritten or redistributed. We strive to uphold our values for every story published.