At the Douglas County Fair 2007
Douglas County Fair 2007
Tammy Hostetler enjoys children and rabbits. She is getting her fix of both as a rabbit superintendent at the Douglas County Fair.
The Baldwin City woman's work began last Saturday when she cleaned the barn where the 100 furry entries will be kept. As 4-H'ers brought in their rabbits Tuesday, she made sure they were properly labeled and healthy.
"We make sure they are well taken care of," Hostetler said. She will spend at least eight hours a day at the fair, mostly monitoring the rabbit barn. As the temperatures climb this week, she said they would closely monitor the rabbits' temperatures and bring in fans and frozen water bottles. If it gets too warm, she will send them home.
She is among the hundreds of volunteers who make the annual county fair possible.
"There's well over 300 volunteers, and if you credited each one of those volunteers with 20 hours of work - that's a very conservative number," said Trudy Rice, director of the county extension service. "So, there are thousands of volunteer hours that go in."
Rice said the Douglas County Fair Board is made up of 11 volunteers who work throughout the year.
"The fair board actually organizes the fair itself and all of the commercial exhibits, the carnival, any of the nightly entertainment and the Demolition Derby," she said.
Eudora farmer Jim Gabriel, president of the board, knows all too well what it takes to put on the fair, which organizers believe will attract at least 30,000 people.
He was carrying ladders, judging pies and assisting 4-H'ers with livestock Tuesday. He plans to be at the fair each day from sunrise to sunset, and likely longer.
He said most volunteers, himself included, take a week's vacation to help at the fair.
"It's not much of a vacation," he said, laughing.
But Twilla Brown, Baldwin City, doesn't seem to mind. She took six days of vacation to help at the fair as a food superintendent. She helped create decorations and elaborate displays for the approximately 500 food exhibits.
"It's just a really nice time to visit with people in the community and friends," she said. "Everybody kind of takes a week off and everybody enjoys it.
"It can be very rewarding seeing the smiles on the kids' faces, and it's nice to be here and be part of it."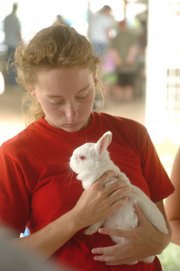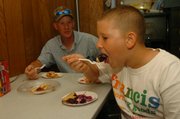 Today at the fair
The Douglas County Fair will be in full swing today with buildings open to the public from 10 a.m. to 10 p.m.
Among today's highlights are:
Goat show, 8:30 a.m., judging arena.
8 a.m.-10 a.m., poultry show, poultry barn.
Food sale, 10 a.m.-11 a.m., Building 21 kitchen.
Naturally Nutritious Food Festival, 6 p.m., Building 21 North.
Petting zoo and pony rides, 6 p.m.-11 p.m., Building 10.
Moore's Greater Shows Carnival, 6 p.m.-11 p.m.
Draft horse pull, 7 p.m., Rodeo Arena.
Musical performance by Konza Swamp Band, 7 p.m.-10 p.m., blacktop area.
For a complete schedule, visit www.dgcountyfair.com.
Copyright 2018 The Lawrence Journal-World. All rights reserved. This material may not be published, broadcast, rewritten or redistributed. We strive to uphold our values for every story published.