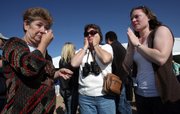 Upham, N.M. — The cremated remains of actor James Doohan, who portrayed engineer "Scotty" on "Star Trek," and of Mercury astronaut Gordon Cooper soared into suborbital space Saturday aboard a rocket.
It was the first successful launch from Spaceport America, a commercial spaceport being developed in the southern New Mexico desert.
Suzan Cooper and Wende Doohan fired the rocket carrying small amounts of their husbands' ashes, and those of about 200 others, at 8:56 a.m. local time.
Since it was a suborbital flight, the rocket soon parachuted back to Earth, coming down at the White Sands Missile Range.
UP Aerospace Inc. launched the first rocket from the desert site in September, but that Spaceloft XL rocket crashed into the desert about nine seconds after liftoff. Company officials blamed the failure on a faulty fin design.
Family members paid $495 to place a few grams of their relatives' ashes on the rocket. Celestis, a Houston company, contracted with UP to send the cremated remains into space.
Wende Doohan, of Renton, Wash., said her husband of 30 years sought a space ride for his remains after "Star Trek" creator Gene Roddenberry's remains were launched in 1997. James Doohan died in 2005 at age 85.
Copyright 2017 The Associated Press. All rights reserved. This material may not be published, broadcast, rewritten or redistributed. We strive to uphold our values for every story published.