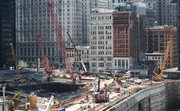 New York — It started with a clogged dust mask that fell onto the desk of Jan Ramirez on the afternoon of Sept. 11, 2001. A friend had used the paper mask to breathe while fleeing downtown Manhattan as the air was filled with grit and smoke from the World Trade Center towers.
"That dust mask is going to be an important artifact some day," Ramirez recalled the friend telling her.
Today, the mask has become a museum piece, one small part of the largest records trove ever assembled to document a single event.
Millions of pieces of paper documenting government investigations, BlackBerry messages written by survivors as they fled, children's finger-paintings and family photos are also part of the archive, preserved in many different places, including state offices, museums and on the Internet.
Saving all things Sept. 11 was a mission embraced from the time of the attacks by professional archivists and grass-roots collectors.
"Pearl Harbor, there are only so many pictures of," said Nancy Shader, regional administrator in New York for the National Archives. "This, as we know, was captured in so many ways."
Archivists immediately set out to compile the most complete picture ever of one historic event, and already are planning for decades ahead. They shared data with museum officials and individual collectors at a symposium last month.
"Our goal is to make sure we all know who's got what stuff," said Kathleen Roe, a New York state archivist who is storing more than 1,000 boxes of government records - such as the 9/11 Commission report - in boxes in Albany.
Roe said she and other major archivists met in New York two weeks after the terrorist attack to ensure that no piece of paper was discarded. It was the first time archivists had met so early to begin collecting artifacts after such an event, she said.
Mary Fetchet saved a 43-second telephone message left on the morning of the attacks by her son, Brad, who later died in the south tower. Brad Fetchet, 24, called his mother after the first hijacked airliner struck, but before the second plane crashed into his building.
"We're fine, we're in World Trade Center Two. I'm obviously alive and well over here, but obviously a pretty scary experience," Fetchet told his mother.
Mary Fetchet, founding director of the Voices of Sept. 11 family group, says: "I want people 100 years from now to be able to listen to that message."
The group is developing an Internet archive that will eventually hold commemorative information about all the 2,973 victims, as well as survivors and rescuers. So far, it has Web pages that pay tribute to about 300 victims.
Copyright 2018 The Associated Press. All rights reserved. This material may not be published, broadcast, rewritten or redistributed. We strive to uphold our values for every story published.