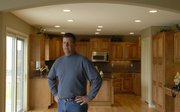 Neal Ezell doesn't mind spending a little extra money to save his customers even more.
Equipping homes with energy-efficient appliances, compact-fluorescent light bulbs and dualzone climate-control systems simply makes sense, he says - especially when it comes to dollars and cents.
"Everything we do has an immediate payback," said Ezell, president of Ezell-Morgan Construction Co. Inc., a Lawrence builder. "We don't do anything that's not cost effective. So there's an initial investment that you're making - some extra money - but when you figure that into your loan, you get that back and more every month in energy savings."
One of Ezell's new homes, at 1107 Douglas Drive in western Lawrence, is among 45 properties that will be open for visitors this weekend and next, as part of the annual Spring Parade of Homes.
And as Americans face ever-increasing energy bills and concerns about caring for the environment, area builders are responding by increasingly designing and marketing their homes as including energy-saving and otherwise environmentally friendly features.
Whether it's a high-efficiency furnace in Signal Ridge in Baldwin City, "low-E" windows on Knollbrook in southern Lawrence or the 1.5-inch-thick insulation that stretches 3 feet below ground level in the basement at 1107 Douglas, this year's tour includes a recognizable hint of green.
"Consumers are really demanding a higher level of efficiency from their homes," said Bobbie Flory, executive director of the Lawrence Home Builders Association, which organizes the parade. "It's consumer driven, and that's what it was going to take to ever make this happen. : Builders know what the consumer wants."
To be sure, not every home or property on the parade is leaving a faint environmental footprint. But some builders have decided to include, and emphasize, several efficiencies.
Ezell already is seeing some market response. He's already sold twice as many homes so far his year - eight - as he did during all of 2006.
Spring Parade of homes
¢ What: Open houses for 45 homes, buildings and properties in Lawrence, Baldwin City and Eudora, organized by the Lawrence Home Builders Association.
¢ When: Noon to 5 p.m. Saturday, Sunday and May 5-6.
¢ Cost: Free.
¢ Where: For a map of homes on parade, pick up a brochure from area real-estate agencies or click on www.lawrenceparadeofhomes.com.
Copyright 2018 The Lawrence Journal-World. All rights reserved. This material may not be published, broadcast, rewritten or redistributed. We strive to uphold our values for every story published.