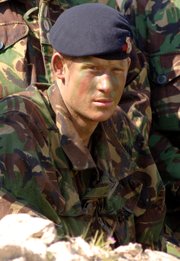 London — Prince Harry says he wants to be an ordinary soldier, but his army career has left military chiefs with an extraordinary predicament.
Commanders are reportedly reconsidering their decision to allow the prince to fight in Iraq for fear his presence could endanger other soldiers. Harry's regiment, the Blues and Royals, is due to begin a six-month tour of duty in Iraq within weeks.
The Ministry of Defense would say only that deployments are kept "under constant review."
"It is still our intent that Prince Harry will deploy as a troop leader," a spokeswoman said Thursday on the government's customary condition of anonymity.
The Sun newspaper quoted unidentified senior military officials Thursday as saying the review was likely to lead to Harry's being banned from the battlefield, although he still could do a desk job.
Over the weekend, newspapers reported threats by Iraqi insurgents to kill or kidnap the 22-year-old prince, including claims his photograph had been widely circulated among militants. Military chiefs accept that the third in line to the throne would be an attractive target for insurgents and that his presence could lead to a surge in attacks on British forces.
But some military experts said it was too late to change the decision to let Harry deploy with his regiment.
"It's good for morale of the other soldiers if Prince Harry goes to Iraq," said retired Maj. Charles Heyman, editor of "Armed Forces of the United Kingdom."
"They feel it's good to have someone from the royal family sharing the risks and the trials and tribulations," he said. "And if we don't send Prince Harry, the insurgents and jihadis will say it is a moral victory for them - that we're afraid to send the prince."
Clarence House, Prince Charles' London office, insisted Harry was on track to go to Iraq, but declined to comment further.
"It's an army decision and always has been and always will be," a spokesman said on condition of anonymity in line with palace policy. Prime Minister Tony Blair also said the decision was "a matter for the army."
The government announced in February that it would begin withdrawing 1,600 of the 7,000 British troops in Iraq this summer as it hands over control of southern Iraq to local forces.
But the past few weeks have seen a fast increase in violence, with 11 British soldiers killed in Iraq this month. In all, 145 British troops have died there since the 2003 invasion.
Harry, a second lieutenant, is a tank commander trained to lead a 12-man team in four armored reconnaissance vehicles.
If deployed, he would become the first royal to serve in a war zone since his uncle, Prince Andrew, flew as a helicopter pilot in the Falklands War against Argentina in 1982.
Despite its hopes of treating Harry as an ordinary soldier, the Defense Ministry has said the prince could be kept out of situations where his presence could jeopardize his comrades.
The British Broadcasting Corp. quoted Harry's friends as saying the prince would be disappointed if he were kept from the Iraqi front lines, while Sky News reported he would quit the army if he was not allowed to serve with his men.
The younger son of the late Princess Diana, Harry has been a frequent face on the front of Britain's tabloid newspapers, which have provided a constant stream of coverage of his party-going lifestyle at glitzy London nightclubs.
But he has said he is serious about an army career. After graduating from the Royal Military Academy at Sandhurst last year, Harry insisted on an opportunity to serve his country.
"There's no way I'm going to put myself through Sandhurst and then sit on my arse back home while my boys are out fighting for their country," he said in an interview to mark his 21st birthday.
Copyright 2018 The Associated Press. All rights reserved. This material may not be published, broadcast, rewritten or redistributed. We strive to uphold our values for every story published.