New Orleans — To many, the B.W. Cooper projects are 56 terrifying acres of government-issue housing marked by bloodshed, drugs and blight. To Barbara Williams, they're home.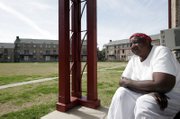 "I love B.W. Cooper," the 65-year-old retiree said recently, her 18-month exile in Houston after Hurricane Katrina finally over. "I was never sick a day back home in the project. In Houston, I had two heart attacks and a light stroke."
But her homecoming may be short-lived. If the U.S. Department of Housing and Urban Development gets its way, B.W. Cooper and other major New Orleans housing projects will be torn down. In a billion-dollar plan, HUD wants to replace them with developments of mixed architectural styles, for people of various incomes.
As bad as the projects were, some tenants have come to regard the drab, brick housing with a certain affection. For many, the projects are all they have ever known. Some see HUD's plan as an attempt to keep poor blacks from returning to New Orleans.
They have raised an outcry and started a court battle over the demolition plan.
"It's really a fight for the soul of the city. It's about how it will be rebuilt and who it will be rebuilt for," said Loyola University civil rights lawyer William Quigley, part of a legal team challenging HUD's plan.
Many of New Orleans' housing projects were built during the New Deal, and the years of neglect show. Ironwork on the balconies is rusty, playgrounds and sidewalks are broken, and the bricks are covered with decades of soot.
In the courtyards, syringes and plastic drug bags lie in the weeds. And since Katrina, the projects have become even more beaten down, because windows and doors were left open to the elements, allowing mold to grow in the apartments.
The projects are ruthless places, plagued by drug addiction, murder and other misery. Pickup basketball games have been interrupted by gang-war gunfire. In the most dire years, during the early '90s, a third of New Orleans' murders occurred within their confines. Nearly everyone had a relative who had been gunned down.
"You could sit on your porch and see them killing each other," said 73-year-old Dorothy Lee Jackson, who still lives at B.W. Cooper.
But the projects were also a community, a place where Grandma and Grandpa lived around the corner. B.W. Cooper had a child care center, bingo nights, dance and drum bands, adult education programs and an auditorium where post-funeral gatherings were held.
Nearly 20 months after Katrina, about 10,000 former tenants of New Orleans' public housing projects have been unable to return to their apartments because of storm damage. HUD is paying for temporary housing for them in New Orleans and other places scattered around the country.
Three major projects - Lafitte, St. Bernard and C.J. Peete - have been closed altogether; HUD sees no point in spending money to repair the storm damage because it wants to tear them down anyway, along with B.W. Cooper.
B.W. Cooper, situated so close to the Louisiana Superdome that chunks of the stadium's wind-ripped roof landed there during Katrina, was the city's biggest housing project before the storm, with about 1,000 families, but is now more than 80 percent empty.
Right after Katrina, local, state and federal officials agreed the projects had to go. In fact, some saw the storm as an opportunity. Rep. Richard Baker, R-La., was quoted as saying public housing in New Orleans was "finally cleaned up. ... We couldn't do it, but God did."
Authorities are hoping to have all four projects demolished and rebuilt by the end of 2008.
Copyright 2018 The Associated Press. All rights reserved. This material may not be published, broadcast, rewritten or redistributed. We strive to uphold our values for every story published.