Eagle Pass, Texas — All residents were accounted for Wednesday after crews scoured the mangled remains of houses and trailer homes in the wake of tornadoes that killed at least 10 people in this border community and its Mexican neighbor. The storm killed two other people in Louisiana and Arkansas.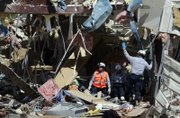 Twisters cut across a nearly 4-square-mile area in a rural community southeast of Eagle Pass on Tuesday night, destroying two empty elementary schools, a church, business and homes. Several mobile homes were still missing as searchers with dogs went lot to lot.
Maverick County Judge Jose Aranda said that all residents on the Texas side were accounted for, but that 50 to 200 families were left homeless.
A family of five - a girl, her parents and two other relatives - was killed when the winds blew their mobile home across the street and slammed it into Rosita Valley Elementary School.
"It was a whole family, and they were all together, probably like they were huddling," said police Officer Ezekiel Navjas, who arrived Tuesday night just as crews were pulling from the wreckage the body of the girl, believed to be about 5 years old.
One of the dead was found in a house, and the other died after being taken to a San Antonio hospital, authorities said. More than 80 others were injured, and at least four remained in critical condition Wednesday.
Across the Rio Grande in Piedras Negras, three people were killed and 300 homes were damaged. About 1,000 people sought refuge in shelters in Piedras Negras.
Neither Eagle Pass nor Piedras Negras had a siren warning system like those used to help people evacuate ahead of the same storm when it flooded streets and peeled roofs off homes in North Texas. No injuries were reported there.
Lightning was blamed for a death Wednesday as the huge weather system plowed through the Mississippi and Ohio valleys. The bolt started a fire near Shreveport, La., that killed a 101-year-old man, authorities and the man's family said.
A 12th person died in Arkansas when high winds swamped a boat on a lake, officials said.
Copyright 2018 The Associated Press. All rights reserved. This material may not be published, broadcast, rewritten or redistributed. We strive to uphold our values for every story published.